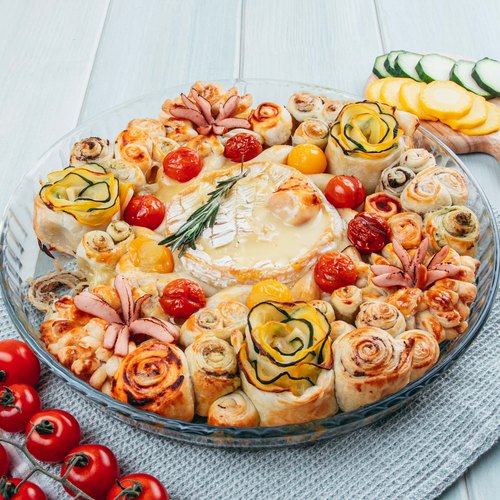 The Spring Appetizer Wreath
The Spring Appetizer Wreath! For a sunny snack 🌞🍻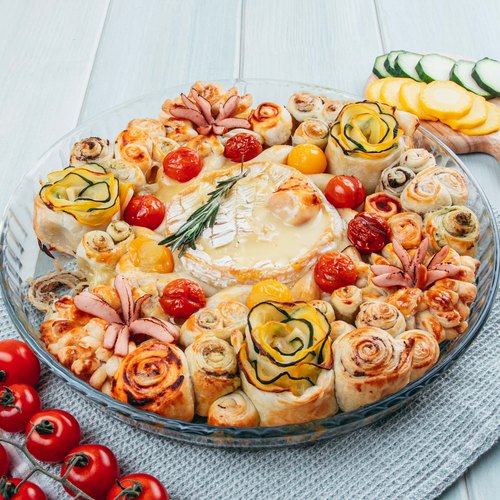 ---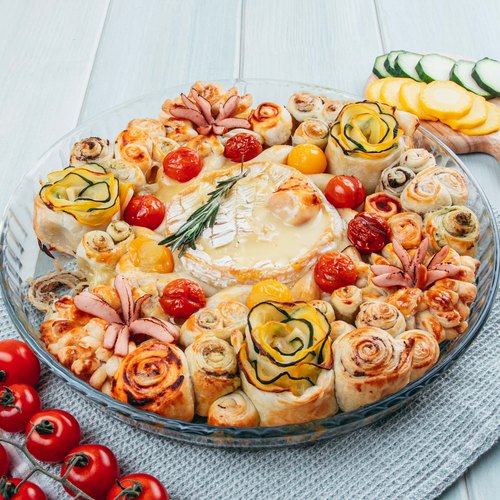 ---
Total time: 45 minutes
Prep time: 5 minutes, Cook time: 40 minutes
Ingredients for 6 people
2 puff pastry
2 hot dogs
3/4 oz of emmental cheese
1 yellow zucchini
1 green zucchini
1 wheel camembert cheese
7 cherry tomatoes
Pesto
---
Tools
Mandoline (or vegetable peeler)
---
Step 1/4
Preheat oven to 375°F. Wash the zucchinis then cut them into thin slices using a mandolin. Blanch them for 1 minute in boiling water then stop the cooking by immersing them in cold water. Dry with paper towels. Place the zucchini slices on the upper half of the puff pastry strip, making them protrude from the dough and overlap. Fold the bottom part of the dough over the zucchini. Gently roll the band on itself, squeezing tightly. Set aside.
Step 2/4
Cut a strip of puff pastry. Fold it back on itself. Make regular incisions all along the dough. Cut a hot dog in half, at the base and make four incisions to create a star shape. Wrap the puff pastry around the hot dog and set aside.
Step 3/4
Form a log with half of the puff pastry. Fold it in half. Braid the log around each cherry tomato. In the center, place the camembert.
Step 4/4
Place the camembert twist in the center of a pie pan. Arrange the rest of the elements around the cheese. Bake 30 minutes. Serve and enjoy!