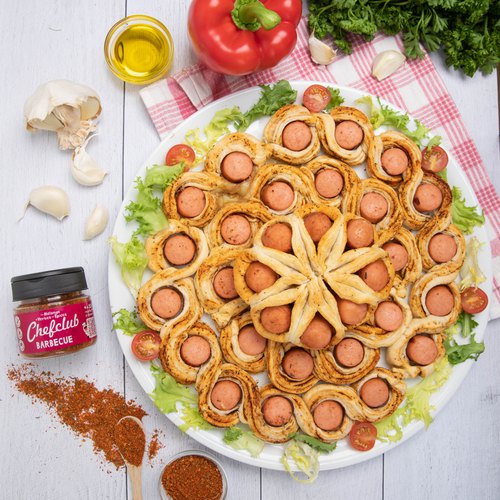 Appetizer Hot Dog Bites
Appetizer Hot Dog Bites! Perfect for your next happy hour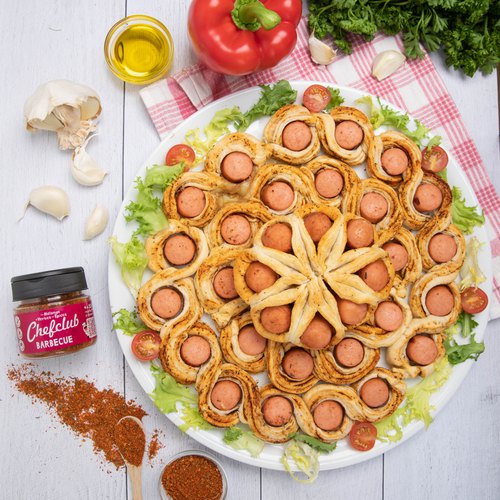 ---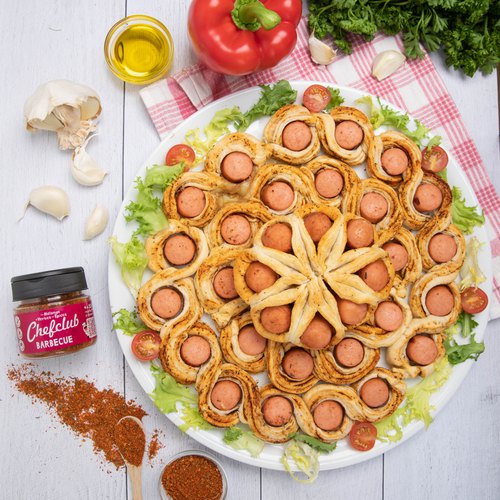 ---
Total time: 40 minutes
Prep time: 20 minutes, Cook time: 20 minutes
Ingredients for 4 people
6 hot dogs
5 tbsp of anise-flavoured spirit
2 rectangular puff pastries
1 wheel camembert cheese
Bbq spices
---
Tools
Chopsticks
---
Step 1/4
Place the hot dogs in a hot frying pan, and proceed to pour the anise-flavored spirit into a ladle. Heat the bottom of the ladle using a blowtorch, and then direct the flame over the anise-flavored spirit for a few seconds. Pour the flaming spirit over the hot dogs and let them flambe.
Step 2/4
Begin by taking a sheet of puff pastry and sprinkling it with BBQ spices, making sure to spread them evenly across the surface. Next, roll the pastry sheet and seal the top by pinching it together. Stand the pastry sheet up vertically and cut it in half lengthwise. Close off the ends of each piece, then cut them again lengthwise, leaving a bit of the pastry uncut so that you can braid it. Proceed to slice the hot dogs into rounds and place one on top of the pastry. Braid the pastry around the hot dog slice and repeat with six more slices until you have a braid with seven hot dog rounds. Use a pair of chopsticks to press down between the sausages to create a pattern. Finally, repeat the entire process with the other pastry sheet.
Step 3/4
To make a "sun" shape, arrange the puff pastry in a circle on a baking sheet lined with parchment paper, leaving some space in the center. Use chopsticks to connect the puff pastry. Cut out four circles from the second sheet of puff pastry using a bowl, then sprinkle them with the BBQ spices. For each circle, place two hot dog slices vertically with space in the center, as if making tacos. Fold the pastry circle in the center and place the tacos around the folded pastry. Use the chopsticks to grab the last and first taco and press them together to form a flower shape.
Step 4/4
Place the Camembert cheese in the space between the braided pastries, then place the sausage flower in the center of the Camembert and bake for 20 minutes at 350°F. Remove the sausage flower to be able to lift the top of the Camembert and enjoy!