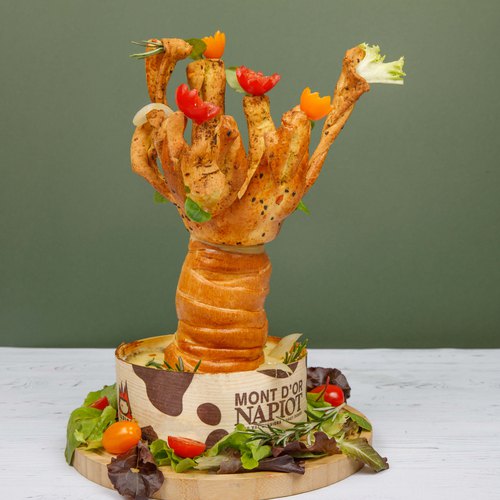 Cheesy Appetizer Tree
Cheesy Appetizer Tree! With crunchy branches perfect for dipping 🌳🧀😋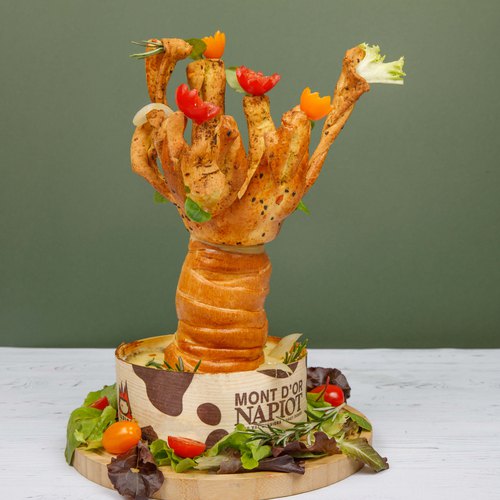 ---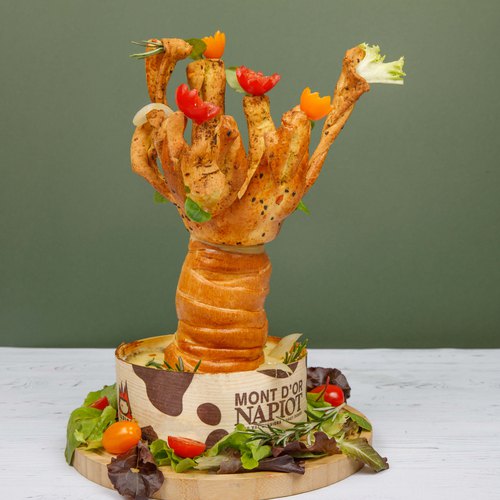 ---
Total time: 1 hour 15 minutes
Prep time: 40 minutes, Cook time: 35 minutes
Ingredients for 5 people
3 cloves of garlic
1 tsp of sugar
2 pizza doughs
Chefclub appetizer seasoning
1 egg yolk
1 mont d'or cheese
4 tbsp of white wine
3 tbsp of pesto
1 onion
2 tbsp of olive oil
1 sausage
Cherry tomatoes
Rosemary
Salad
---
Tools
Rolling pin or metal rod
parchment paper
Scissors
---
Step 1/3
Roll the sausage in a plate of Chefclub appetizer seasoning. Place the sausage in the center of the pizza dough, draw lines on the dough then fold the strips over the sausage. Dip the puff pastry sausage in the egg yolk, place it upright on a baking tray lined with parchment paper and bake for 20 minutes at 350°F.
Step 2/3
Trace a grid on the Mont d'Or cheese. Place the garlic cloves and rosemary in the interstices then pour a drizzle of white wine. Place aluminum foil on a glass and then bend it to match the shape of the glass. Sprinkle the pizza dough with Chefclub appetizer seasoning, incorporate the seasoning into the dough using a rolling pin, turn the dough, brush it with pesto then place the dough on the aluminum foil. Cut lines evenly all around the dough using scissors, twist the strips of dough then bake the dough and the Mont d'Or for 15 minutes at 350°F.
Step 3/3
Chop the onion into pieces, brown them over high heat with a drizzle of olive oil, lower the heat, add the sugar and allow to simmer. Remove the crust from the Mont d'Or, place the puff pastry sausage in the center of the Mont d'Or, seal the crepe upside down with the melted Mont d'Or then place the onions in the center of the crepe. Decorate with cherry tomatoes, lettuce and rosemary. Serve and enjoy!