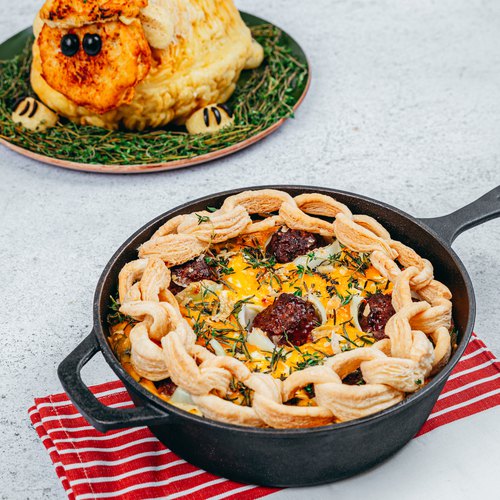 Deep Dish Shepherd's Pie
Deep Dish Shepherd's Pie! Don't be sheepish, try this recipe 🐑🥧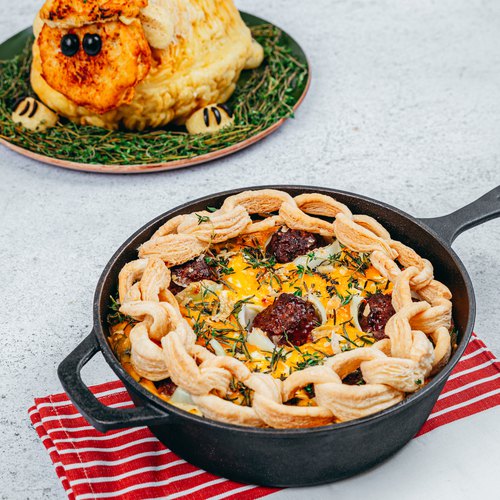 ---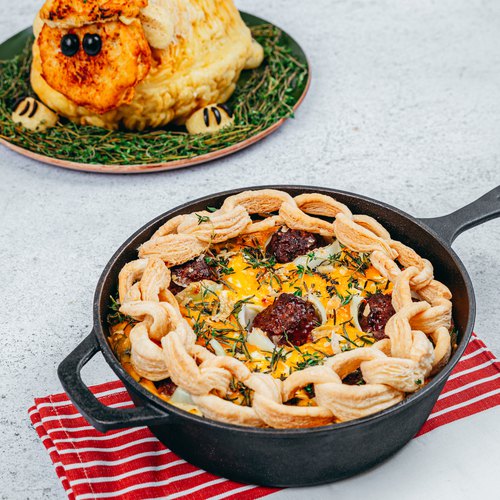 ---
Total time: 3 hours
Prep time: 30 minutes, Cook time: 30 minutes, Rest time: 2 hours
Ingredients for 6 people
8 egg yolks
3 cups of cornstarch
20 cups of mashed potatoes
2 cans of green peas
20 slices of bacon
6 cups of cheddar
Oil
Black olives
2 lb of ground beef
2 onion
2 tbsp of thyme
2 tbsp of rosemary
4 puff pastries
---
Tools
Cling wrap
parchment paper
Piping bag
Toothpicks
---
Step 1/3
Mix the mashed potatoes with the egg yolk and cornstarch.Place in a piping bag. Wrap two identical bowls in cling wrap, place on a baking sheet lined with parchment paper and spoon the potato mixture into the bowls. Add two portions to make the head, four small portions for the legs and place in the freezer until set. Reserve some of the mixture.
Step 2/3
Heat the oil in a pan and remove the potato pieces from the freezer. In a potato bowl, add peas, cheddar, bacon and mix well. Spoon some of the remaining potato mixture onto the rim and close with the second bowl. Fry all the potato pieces in hot oil until golden and drain on paper towels. Attach the head and legs to the large ball with toothpicks. Make eyes with the olives and set aside.
Step 3/3
Spread the rest of the mashed potatoes on the base of a baking dish. Insert onion slices into circles and place a raw meatball in the center of each. Spread the cheese around and sprinkle with herbs. Form puff pastry rings and join them to create a chain. Place the chain on the sheep and bake in the oven at 390°F for 20 minutes. Enjoy!