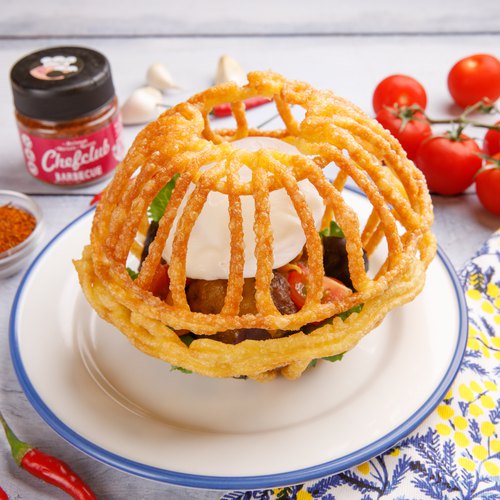 Meatballs in a Fried Cage
Meatballs in a Fried Cage! A feast for the palate 🧆😋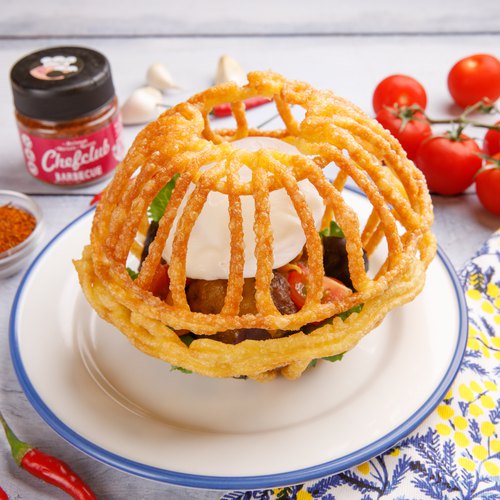 ---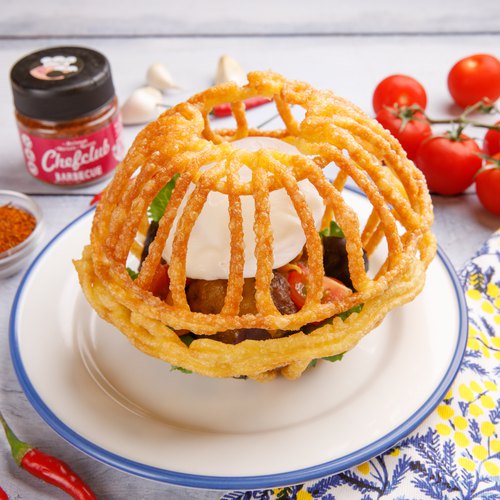 ---
Total time: 30 minutes
Cook time: 30 minutes
Ingredients for 4 people
1.1 lbs of ground beef
1 tbsp of vinegar
18 oz of choux dough
3 egg
2 tbsp of chefclub bbq spice mix
3 1/2 oz of cheddar
Oil
Cherry tomatoes
Salad
---
Step 1/4
Boil 4 cups of water with vinegar and use the mixer to create a whirlpool in the water. Place the egg in the center of the swirl to make a poached egg. Reserve. Repeat the process two more times.
Step 2/4
Dip the outside of a bowl in hot oil for a few seconds and place it upside down on a table to make patterns with the choux dough. Dip the dough lightly in the hot oil and then unmold it to create a basket. Repeat the process 5 times to get 6 baskets.
Step 3/4
Sprinkle the Chefclub BBQ seasoning over the ground beef and make 12 meatballs. Make a space in the center of the meat and insert pieces of cheddar cheese. Bake in the oven for 15 minutes at 350°F.
Step 4/4
Fill the basket with the meatballs, salad, cherry tomatoes and place the poached egg on top. Cover with the other part of the basket and enjoy!