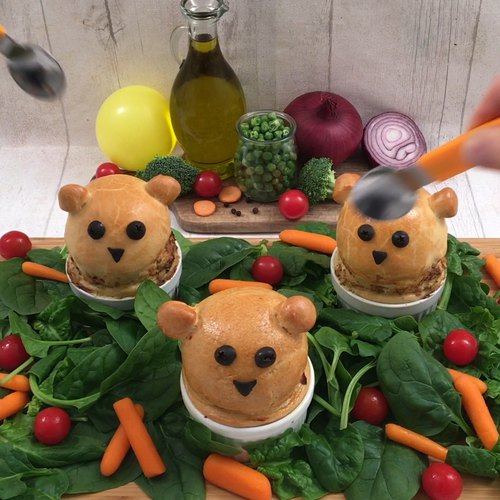 Chicken Pot Pie Bears
As soon as you make these with your kids, a grand dinner is about to happen! 🧸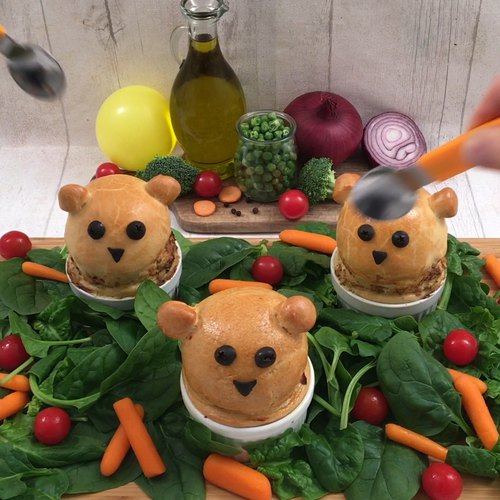 ---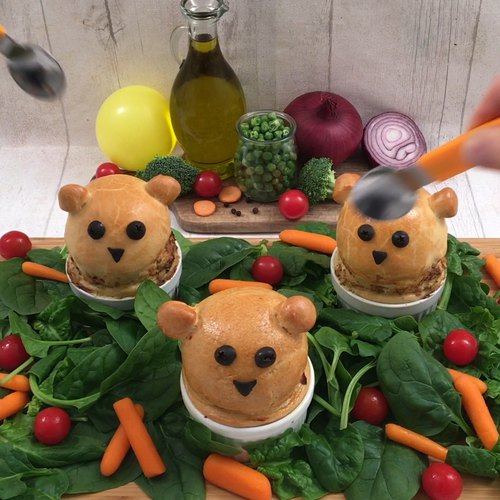 ---
Ingredients for 4 people
3 cups of flour
1 teaspoon yeast
1 teaspoon salt
1/4 cup of olive oil
1 cup of water
1 cup of onion, diced
1 cup of shredded chicken
1 tablespoon salt
1 tablespoon pepper
1 cup of milk
2 cups of chicken stock
2 cups of frozen vegetables
1/4 cup of butter
2 balls mozzarella cheese
1 egg yolk, beaten
black olives, for garnish
---
Tools
Rolling pin
Ramekins
---
Step 1/3
In a bowl, combine 3 chefs of flour, 1 little chicks of yeast, 1 little chicks of salt, 1 mouse of olive oil and 1 chef of water. Mix well to combine the ingredients. Let the dough rise in the same bowl for 1 hour, or until it is double in size. Punch the dough down to remove some of the air and place the dough on a well floured surface. Sprinkle a little more flour on top of the dough and roll it into a large rectangle. Cut out 6 circles using the chef measuring cup and remove the excess dough, roll it into a ball and set it aside. Place 3 of the circles of dough into the ramekins and press down. Set aside.
Step 2/3
In a saucepan, add 1 mouse of butter and 1 chef of onions. Cook until the onions are translucent. Add 1 chef of shredded chicken, 1 hen of salt, 1 hen of pepper, 1 chef of milk, 2 chefs of stock and 2 chefs of frozen vegetables. Cook until the vegetables are tender. Add 1 mouse of flour and cook until the soup is thickened. Add the soup to the ramekins.
Step 3/3
In a small bowl, place a circle of pizza dough and press down to shape it. Add 1/2 ball of mozzarella cheese, frozen vegetables and pinch the dough around the ingredients to make a ball. Repeat these steps 2 more times. Place a ball on top of each ramekin and add a small half circle on each side of the balls to form the ears. Brush lightly with egg wash. Bake for 25 minutes at 350 ° F. Allow to cool before adding slices of black olives to form the face. Enjoy!