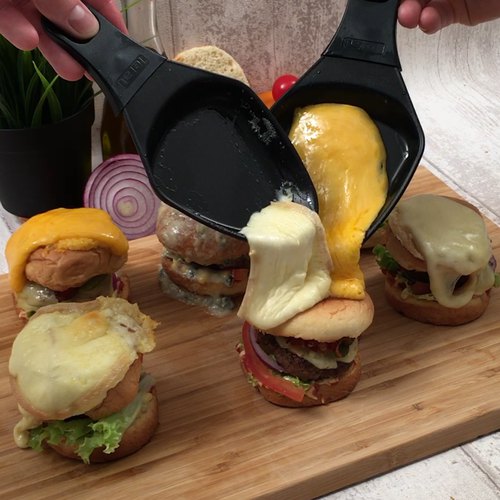 Cheeseburger Party
Cheeseburger Party! Call your friends, it's burger night! 🍔👯‍♀️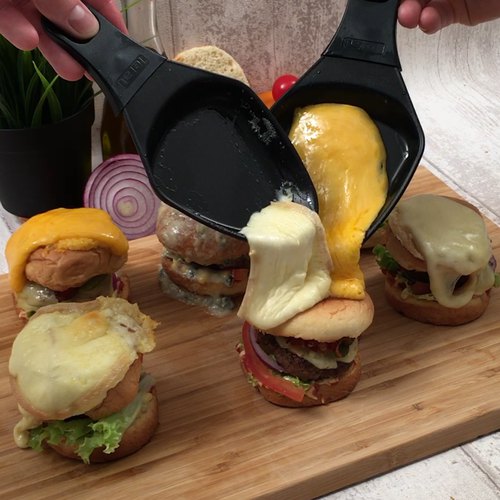 ---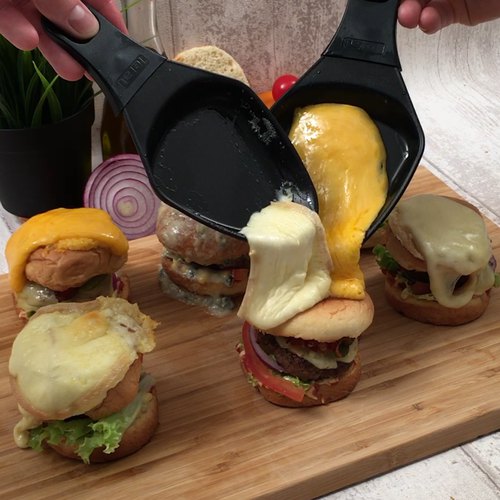 ---
Total time: 35 minutes
Prep time: 20 minutes, Cook time: 15 minutes
Ingredients for 6 people
Pickles
Ketchup & mayonnaise
Salad
Parsley
12 slices of bacon
6 slices of cheddar
7 oz of blue cheese
6 slices of raclette
12 mini brioche buns
4 red onions
4 tomatoes
3 1/2 oz of cheddar
1.3 lbs of ground beef
2 bell peppers
---
Tools
Raclette grill
---
Step 1/3
Divide the ground beef into 3. Mix the grated cheddar in one part, the diced onion and chopped parsley in another part and the bell pepper in the last part. Roll the beef into meatballs.
Step 2/3
Open the brioches in 2, prick the halves on forks and grill in the raclette grill. Cook the meatballs by flattening them and the slices of bacon on the plate of the raclette grill. Melt the cheeses in the raclette pans.
Step 3/3
Make the burgers with lettuce, slices of tomato and onion, the meat, melted cheese, pickles, ketchup and mayonnaise. Pour some of the melted cheeses on top of the buns. Serve and enjoy!