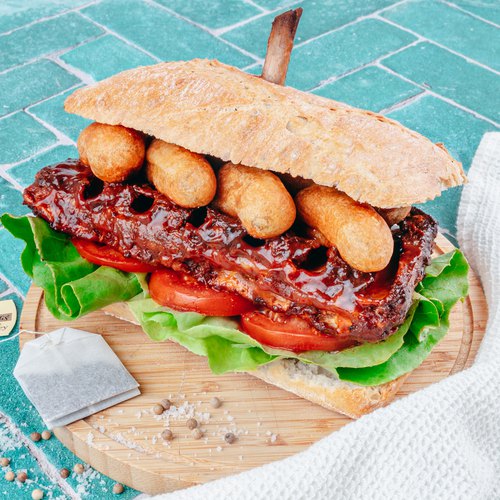 Rib Sandwich & Fried Pickles
Rib Sandwich & Fried Pickles! With a secret BBQ sauce 😉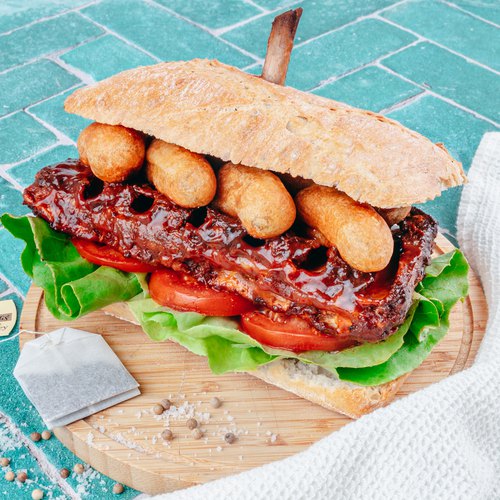 ---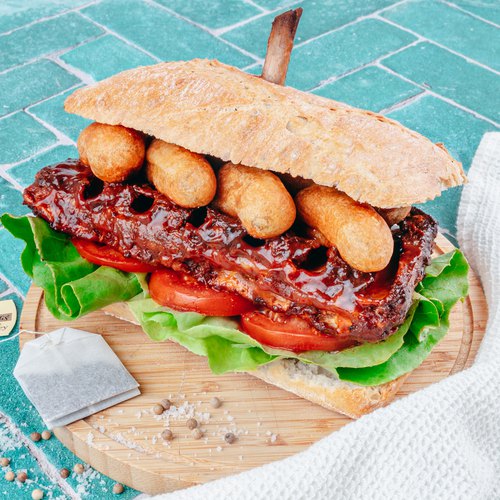 ---
Total time: 2 hours 35 minutes
Prep time: 5 minutes, Cook time: 2 hours 30 minutes
Ingredients for 6 people
2 ribs
1 cup of bbq sauce
4 bags of tea
1 bottle of coca-cola
1 jar of pickles
1 cup of flour
2 tsp of baking powder
1 tbsp of paprika
Vegetable oil
Salt
Lettuce
Tomato
---
Tools
Aluminium foil
Kettle
Whisk
---
Step 1/4
Preheat the oven to 350°F. Take the ribs and cut in them half. Rub with the tea from the tea bags and the BBQ seasoning. Place the ribs on a baking sheet with a metal rack and cover with aluminum foil. Cook for 2-2½ hours.
Step 2/4
Make the BBQ sauce with the leftover spice mix and soda. Cook in a sauce pan until it reduces to 1/4th of the volume.
Step 3/4
Heat the frying oil. In a bowl mix the flour, baking powder, paprika and 2 pinches of salt. Dip the pickles into the batter and fry until golden brown.
Step 4/4
Make a sandwich with the ribs (remove the bones). Add some lettuce, tomato and the BBQ sauce. Serve with the fried pickles and enjoy!