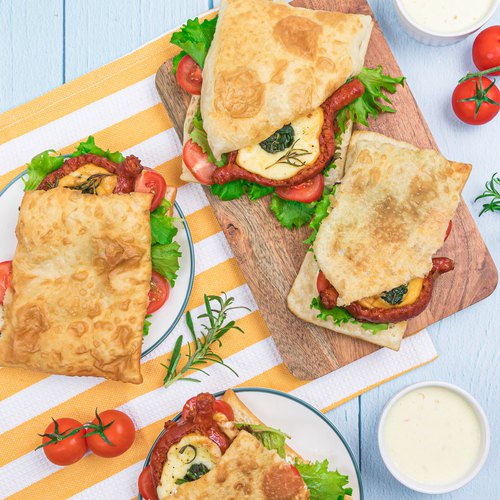 Smoked Mozzarella Sandwich
Smoked Mozzarella Sandwich! An unforgettable Italian recipe 🥪🧀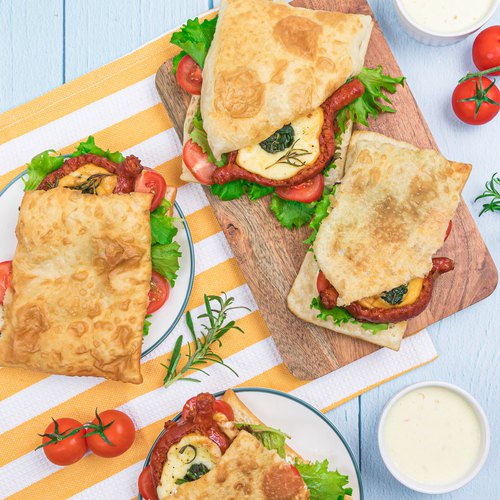 ---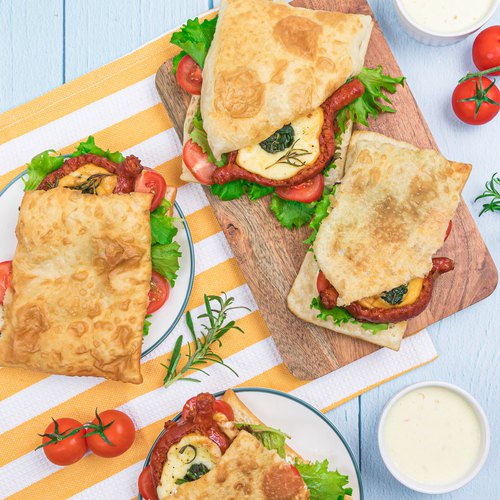 ---
Total time: 1 hour 35 minutes
Prep time: 30 minutes, Cook time: 5 minutes, Rest time: 1 hour
Ingredients for 4 people
2 oz of spinach
1 scamorza
1 oz of heavy cream
4 sausages
3 oz of milk
4 oz of cream cheese
2 tsp of sugar
4 oz of water
1 lb of flour
Oil
Salad
2 tomatoes
1 tsp of salt
---
Step 1/4
Empty the scamorza and fill with cooked spinach. Heat the leftover scamorza with heavy cream and set aside.
Step 2/4
Cut the sausages in the center (do not cut the ends). Place scamorza in the center of the sausages. Cut into slices and cook on the grill. Season with rosemary, salt and pepper.
Step 3/4
Mix flour, milk, salt, 1 oz of cream cheese, sugar and water into a smooth dough. Allow to rise 1 hour. Take your dough and shape into 4 rectangles. Fry in hot oil until golden brown. Cut the fried dough in half widthwise.
Step 4/4
Garnish the fried dough with salad, tomatoes and the scamorza. Serve with the cheese sauce and enjoy!