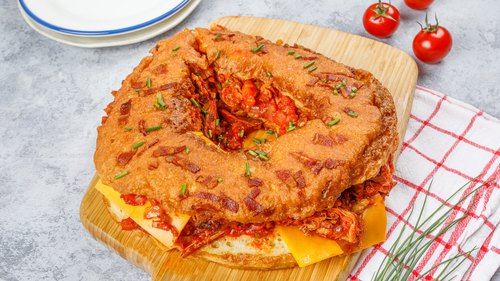 Sloppy Joe-Nut
The crazy combo you have to try 🍩🥓😜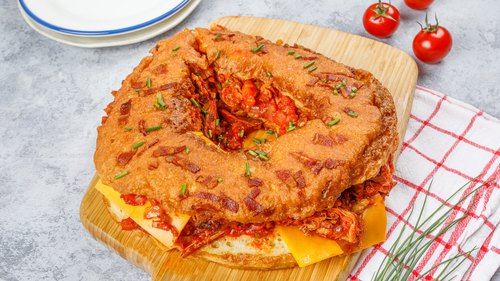 ---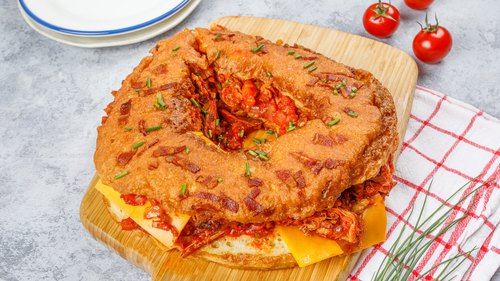 ---
Total time: 4 hours
Cook time: 3 hours 30 minutes, Rest time: 30 minutes
Ingredients for 6 people
1 lb of pork belly
2 tbsp of salt
4 lb of coarse salt
1/4 cup of smoked paprika
2 tbsp of brown sugar
1 tbsp of black pepper
1 tbsp of garlic powder
1 tbsp of chilli powder
1 1/2 tsp of ground cumin
2 feuilles of bay leaf
4 thyme sprigs
1 tbsp of olive oil
1/2 cup of diced green pepper
1/2 cup of diced yellow onion
1 cup of tomato sauce
1/2 cup of tomato paste
1 tbsp of worchestershire sauce
1 tsp of paprika
2 tsp of yeast
2 tbsp of sugar
1 1/2 cups of warm milk
2 cups of flour
1 1/2 tsp of baking powder
2 eggs
1 salt
6 diced cooked bacon
8 1/2 cups of vegetable oil
6 cheddar slices
2 tbsp of chives
1 aluminium foil
1 plastic food bag
1 scissors
---
Step 1/5
Preheat oven to 375F degrees. Mix paprika, brown sugar, salt, garlic powder, black pepper, chili powder, and cumin together in a bowl. Cut the fat side of the pork belly into a cross-hatch pattern, being careful not to pierce down to the meat. Rub the spice mixture into the meat side of the pork, then rub coarse salt into the fat side. Add about 1 cup of coarse salt to an aluminum foil covered baking sheet. Place the bay leaves and thyme sprigs on top of the salt. Place the pork belly on top of the salt, fat side up. Cover the pork with aluminum foil. Cover the foil wrapped pork in salt. Cook for about 4 hours or until the meat is very tender and shreds easily.
Step 2/5
Place yeast and sugar into a mixing bowl. Slowly pour in the warm milk and whisk well to combine. Cover with a towel and let it rest for 10 minutes. Add the flour, baking powder, and a pinch of salt to the mixing bowl and combine. Make a well in the center of the flour mix, then pour the eggs into the well and mix. Once the yeast mixture has rested, slowly pour half of it into the flour-egg mixture and combine. Add remaining yeast mixture and mix the batter until very smooth. Cover the bowl with a kitchen towel and let the batter rest for 20 minutes.
Step 3/5
Heat a large saute pan over medium heat. Add the olive oil. Once the oil is hot, add the peppers and onions. Saute until the vegetables are softened, about 5 minutes. Stir in the tomatoes, tomato sauce, tomato paste and seasonings. Bring to a boil. Reduce heat, cover and cook over low heat for 30 minutes.
Step 4/5
Heat the frying oil to 350 degrees. Take the rested batter and add the diced bacon. Place batter into a plastic food bag. Cut a wide tip at one corner of the plastic bag, then slowly pipe a large donut shape into the hot oil. Once the underside of the donut is nicely golden, turn the donut over to cook the other side. Remove the cooked donut to a paper-towel lined baking sheet to drain. Repeat with the remaining batter. Cut the donuts in half so that the ends are still attached to form a hinge-like lid. Add sliced cheddar to both sides of the donut, then toast in the oven to melt the cheese.
Step 5/5
Remove cooked pork belly from oven. Shred with tongs. Combine the shredded pork with the sauce. Add the sloppy joe mixture to one half of each donut, then close to form a sandwich. Garnish with chopped chives. Enjoy!