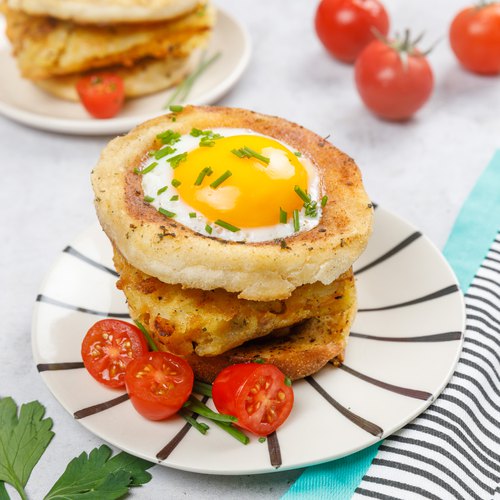 Eggsential English Muffin Breakfast
Guaranteed an eggcellent day 😄🍳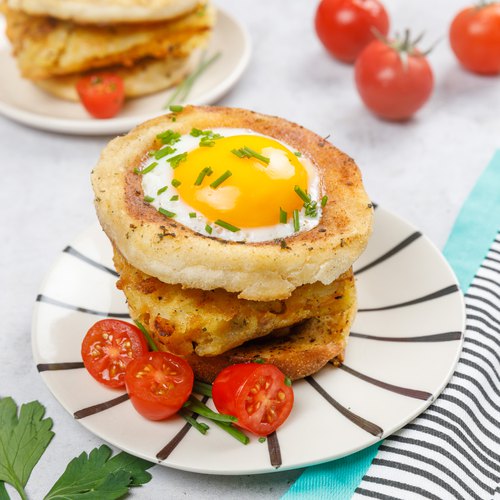 ---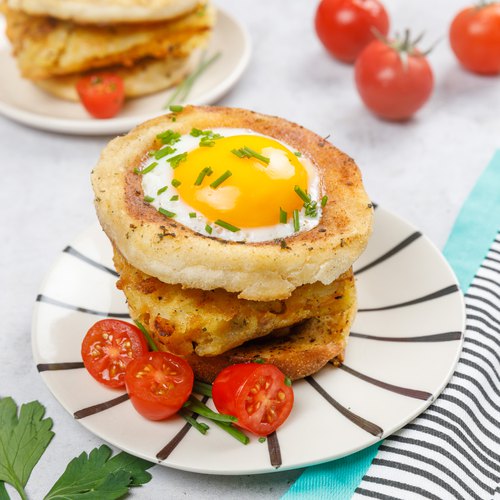 ---
Total time: 1 hour
Prep time: 30 minutes, Cook time: 30 minutes
Ingredients for 4 people
3 potatoes
1/4 cup of 1/4 vegetable oil
1 salt
1 pepper
1 diced onion
6 diced bacon
4 cheddar slices
4 english muffins
1/2 lb of 1/2 ground sausage
2 tbsp of butter
1 egg spice mix
4 eggs
2 tbsp of chives
2 round cookie cutter
---
Step 1/3
Heat the griddle or plancha on medium-high heat. Add the vegetable oil. Once the oil is hot add the grated potatoes. Cook until the potatoes are crispy and golden. Shape into a large hash brown. Cook the diced onions and diced bacon on the side of the griddle. Cut the large hash browns into 8 equal rectangles or squares. Add onion and bacon to the tops of half of the hashbrowns. Now top with a slice of cheddar. Next, place another hash brown on top to form a sandwich. Keep these warm on the side of the griddle or in the oven.
Step 2/3
Melt the butter and brush the tops and bottoms of the English muffins. Season with egg spice mix. Toast the muffins on the bottom and outer sides on the griddle. Cook the sausage patties on both sides until fully cooked. Remove the toasted muffins from the griddle then cut out the middle of the muffin tops with the cookie cutter. Return the muffins to the griddle with the outer sides up, then add an egg to the cut-out center of each muffin. Allow eggs to cook.
Step 3/3
To build the muffins first add a sausage patty to the bottom of each English muffin. Now top with a stuffed hash brown. Add the cut-out toasted centers of the muffins followed by the egg-filled muffin with the egg facing up. Garnish with chives or parsley. Serve and enjoy!