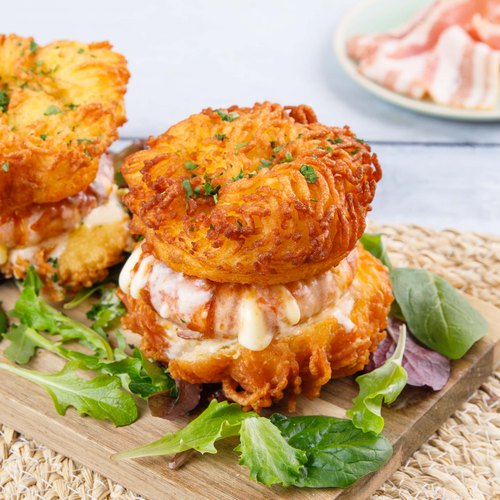 Mashed Potatoes & Bacon Burger
Mashed Potatoes & Bacon Burger! A new take on your favorite snack 😁🍔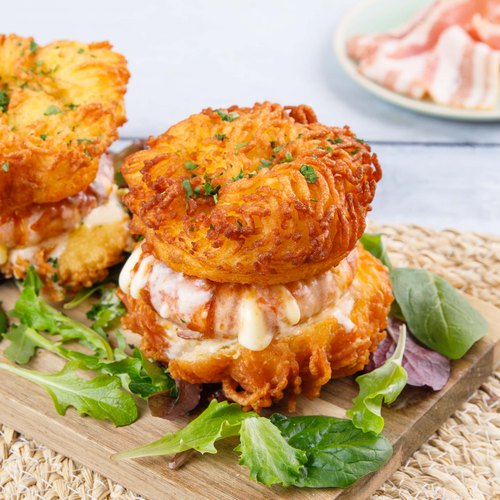 ---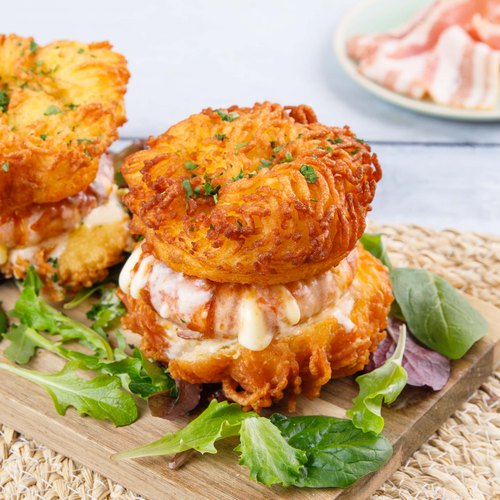 ---
Total time: 1 hour
Prep time: 45 minutes, Cook time: 15 minutes
Ingredients for 3 people
1.3 lbs of potatoes
1.3 cups of milk
3 tbsp of sour cream
2 onions
2 tsp of butter
2 tbsp of brown sugar
1 wheel reblochon cheese
12 slices of bacon
Vegetable oil
1/2 cup of génépi liquor
1 tsp of parsley
---
Tools
Strainer
Parchement paper
---
Step 1/4
Peel and cut the potatoes into pieces. Cook them in 1 liter of salted water. Mash the potatoes and mix them with the milk until you get a smooth consistency. Add the sour cream and mix again. Place the mashed potatoes in a ziploc bag then cut the lower corner.
Step 2/4
Crush the mashed potatoes with a strainer to form a block of mashed potato filaments. Fry the mashed potato filament block in frying oil for a few minutes. Repeat the process 5 times. Cut the onion into pieces, cook them in a pan with the butter and brown sugar to caramelize them.
Step 3/4
Cut 3 circles in the reblochon using a glass. Arrange 4 slices of bacon in a star pattern on a sheet of parchment paper. Repeat the process twice. Place the reblochon circles in the center of the bacon stars. Draw a small circle on the top of the reblochons and remove the small circles. Place the caramelized onions inside and place the small circle on top. Fold the ends of the bacon slices over the reblochons and cook them in a hot pan with a drizzle of oil.
Step 4/4
Place the excess reblochon in a saucepan and add the genepi. Cook for a few minutes to obtain a cheese sauce. Place the bacon balls on the blocks of fried mashed potatoes. Pour the cheese sauce over the bacon balls. Place the other blocks of mashed potatoes on top. Sprinkle with parsley and enjoy!