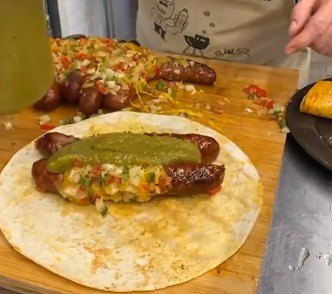 Spicy Enchilada & Fried Peppers
Spicy Enchilada & Fried Peppers! With delicious chorizo sausages 😋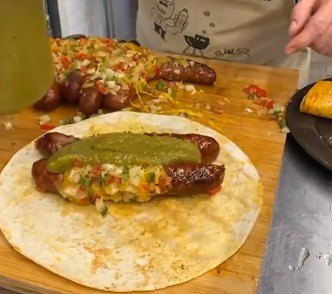 ---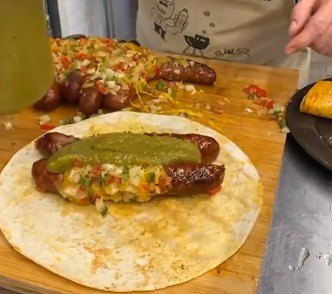 ---
Total time: 1 hour 30 minutes
Cook time: 1 hour 30 minutes
Ingredients for 2 people
8 chorizo sausages
1 1/2 cups of cheddar
1/2 cup of pico de gallo
1/4 cup of hot sauce
4 bell peppers
1 cup of cream cheese
Salt & pepper
1/2 tbsp of garlic powder
1 tbsp of chives
1 tsp of paprika
1 1/2 cups of cornmeal
1 1/4 cups of flour
1/4 cup of sugar
1 egg
1 3/4 cups of buttermilk
1 tbsp of oil
1 tbsp of honey
1/4 tsp of salt
1 tbsp of baking powder
1 potato
Tortillas
Frying oil
---
Tools
Piping bag
Toothpicks
Skewers
---
Step 1/4
In a bowl mix cornmeal, flour, sugar, baking powder and salt together. In a seperate bowl mix buttermilk, egg, honey and 1 tbsp of oil. Add wet ingredients to dry mix and blend well to make corndog batter. Set aside. Open peppers from the tops and remove seeds.
Step 2/4
Mix cream cheese, paprika, shredded cheddar, garlic powder, salt and pepper. Put it in a piping bag, fill peppers and close tops using toothpicks then stick a skewer through the center from top to bottom and place a square of potato on the bottom to hold together. Dip in batter and fry until golden brown.
Step 3/4
Take chorizo links and skewer them together. Cut a crosshatch pattern then coat with hot sauce. Grill and flip over. Add shredded cheddar and pico de gallo.Remove from grill and cut in half.
Step 4/4
Heat tortilla and fill tortilla with chorizo. Wrap it and serve with peppers. Enjoy!