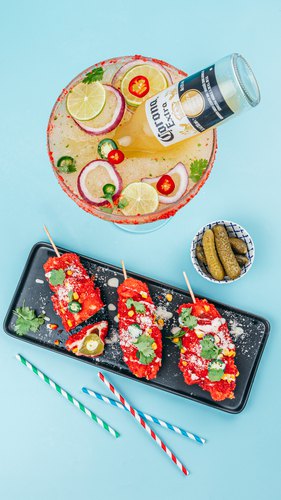 Spicy Fried Pickles & Beergarita
Spicy Fried Pickles & Beergarita! This recipe will pickle your taste buds 😀🍺🥒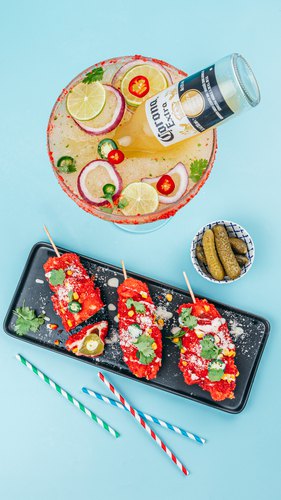 ---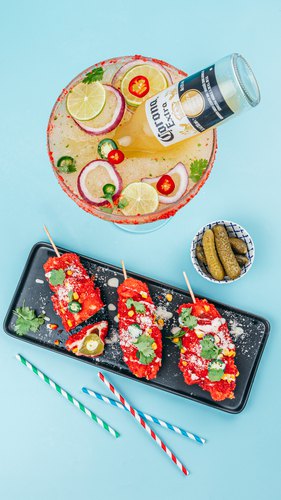 ---
Total time: 30 minutes
Cook time: 30 minutes
Ingredients for 6 people
3 large pickles
1 bag of flamin' hot cheetos
3 cups of corn dog batter
6 babybel cheeses
Jalapeños
2 tsp of cilantro
2 tbsp of parmesan
1/2 cup of corn
4 beers
1 cup of lemon juice
4 cups of orange juice
1 cup of lime juice
1 cup of tequila
Small pickles
Heavy cream
Red onion
Ice cubes
---
Tools
Apple corer
Blender
Skewers
---
Step 1/4
Core out the center of the large pickles. With the help of a skewer, stuff the pickles with the babybel cheeses. Fill with flamin' hot cheetos and add more cheese to seal the end.
Step 2/4
Dip the pickles in the corn dog batter and roll in crushed flamin' hot cheetos and corn. Fry in hot oil for 30 seconds. Decorate the tops of the pickles with sliced jalapeños, cilantro, parmesan and a drizzle of cream.
Step 3/4
Pour the juices, beer, tequila, pickles and a few jalapeños into a blender. Mix and add ice. Blend once more.
Step 4/4
Pour the frozen margarita into serving glasses and top with slices of lemon, lime, and red onion. Serve with the fried pickles and enjoy!