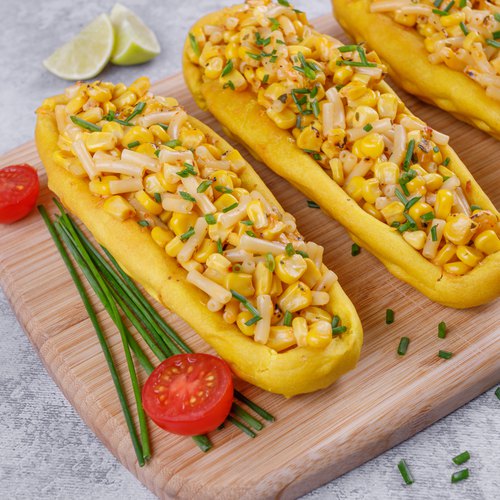 Shuck it corn bread
Shuck it corn bread! there's nothing cornfusing about this tasty recipe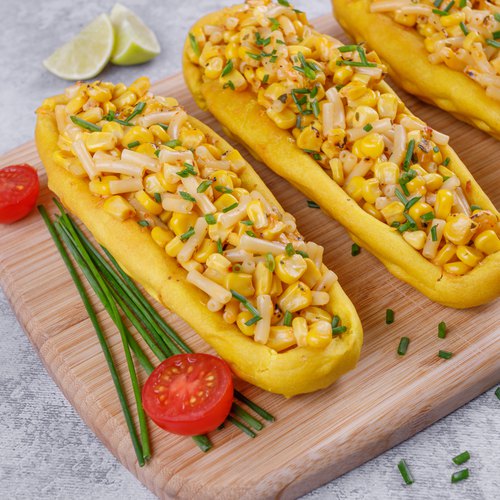 ---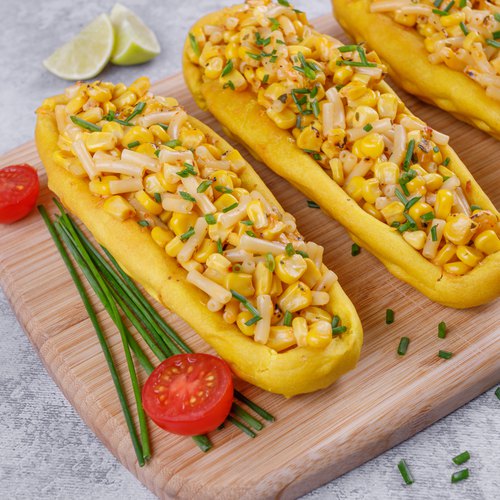 ---
Total time: 1 hour
Cook time: 1 hour
Ingredients for 4 people
4 corn
2 tbsp of chefclub vegetable spice mix
salt & pepper
1/2 cup of soften butter
2 cups of flour
1 cup of cornmeal
1 tsp of baking powder
1 cup of water
1/4 cup of olive oil
turmeric or yellow food coloring
1 box of macaroni and cheese
milk
1/2 cup of shredded cheddar
2 tbsp of chives
---
Tools
Aluminum foil
Baking sheets
---
Step 1/4
Preheat the oven to 425°F. Optional: lightly grill or char the ears of corn before roasting. Place each ear of corn in a piece of aluminum foil. Add one tablespoon of the softened butter to each ear of corn, then sprinkle each with the vegetable spice and salt and pepper to taste. Wrap the corn up in the aluminum foil and place it on the baking sheet. Bake for about 20-25 minutes, or until the corn is soft. Once the corn has baked and is cool enough to handle, remove the kernels by using a knife. Reserve the kernels in a bowl and return the cobs to the baking sheet. You can reserve some of the butter to use in the macaroni and cheese preparation if desired.
Step 2/4
Lower the oven temperature to 325°F. In a medium bowl, mix dry ingredients corn meal, flour, baking powder and salt. Stir in water, olive oil, and turmeric or yellow food coloring to achieve a bright yellow color. Continue to stir until a soft dough forms.
Step 3/4
Divide the dough into 4 equal parts. Form a log-like shape with each piece of dough, then roll each out into a long oval shape similar to an ear of corn. Place one rolled-out portion of dough over each of the cobs. Then, with two small teaspoons, pinch the dough together as shown in the video to create kernel-like shapes. Bake the dough on the cobs for 12-16 minutes, or until it is golden.
Step 4/4
Prepare the macaroni and cheese according to instructions on the box. Add the corn kernels to the prepared mac and cheese. Once the corn bread is ready and cool enough to handle, remove it from the oven and remove the pieces from the cobs. Turn the bread so that the hollow part is facing up, place them back on the baking sheet, then fill each with the prepared macaroni and cheese-corn mixture. Sprinkle the top of the mac and cheese with the shredded cheddar, then return the stuffed bread to the oven to melt the cheddar for about 4 minutes. Garnish the corn and mac & cheese with chopped chives. Serve and enjoy!