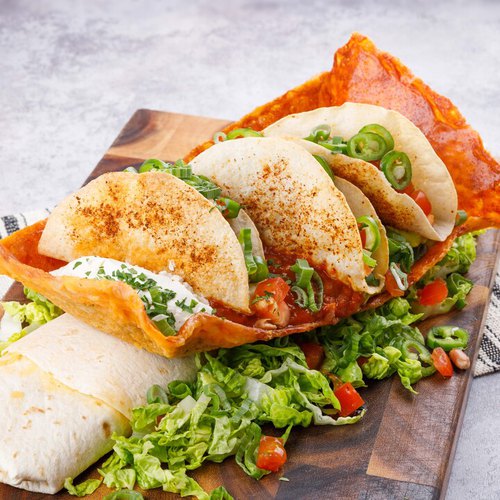 Guac N Roll Family Burrito
Guac N Roll Family Burrito! A bountiful dish for the whole family to enjoy 😄🌯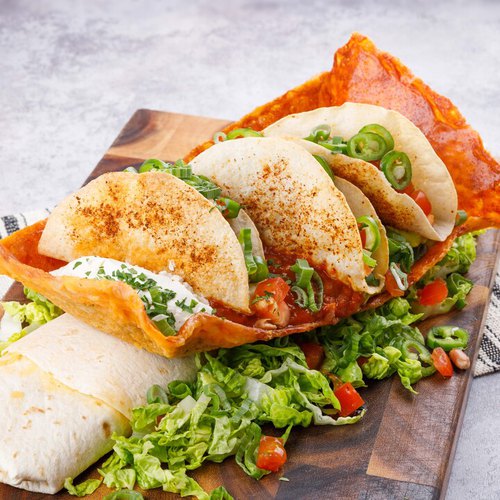 ---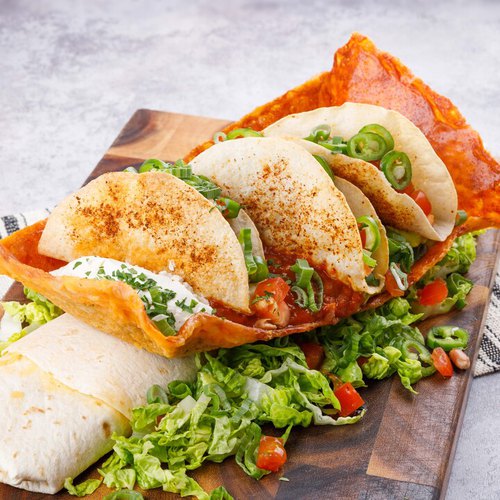 ---
Total time: 1 hour
Cook time: 1 hour
Ingredients for 4 people
4 flour tortillas (10 inch)
12 oz of shredded cheese (monterey jack & cheddar)
12 oz of ground beef, cooked
14 oz of pinto beans
10 oz of corn
2 tbsp of taco seasoning
1 onion
2 jalapeños
11 oz of salsa
1 cup of lettuce
1/4 cup of sour cream
1/2 cup of guacamole
2 tomatoes
2 tbsp of cilantro
4 flour tortillas
---
Tools
Clothespins
---
Step 1/4
Heat the plancha to 350°F. Place the large tortillas overlapping on the plancha. Measure out 1/2 cup of the shredded cheese and sprinkle it evenly on the meeting edges of the tortillas to seal them together. Spread 3/4 of the seasoned ground beef over the tortillas. Add 3/4 of the pinto beans, the corn, avocado, onion, 1/2 of the jalapeños, 1/2 of the salsa and about 2 oz of the cheddar-jack. Fold up the sides of the tortillas, securing the edges with clothespins. Tuck in the ends of the burrito and remove the clothespins. Turn the burrito over to cook the other side. Remove from plancha and set aside.
Step 2/4
Add the remaining shredded cheese to the plancha in a rectangular shape slightly wider and longer than the shape of the burrito. Let the cheese caramelize and become firm. Remove it from the plancha with the help of spatulas. Drape the cheese over the bottom of a loaf pan. Secure the corners with clothespins and allow it to firm up enough to keep its shape.
Step 3/4
Preheat oven to 350°F. Add the three smaller tortillas to the oven rack to form a taco shell shape. Bake for 8 minutes until crisp. Remove from the oven and allow to cool.
Step 4/4
Add the burrito to a serving plate covered in shredded romaine lettuce- seam side down. Add the cheese 'plate' to the top. Place the three taco shells on top of the cheese. Place corn, guacamole, sour cream, and the remaining salsa between the taco shells. Fill the taco shells with the remaining beans, diced tomatoes, and sliced jalapeños. Sprinkle the chopped cilantro over the top. Serve and enjoy!