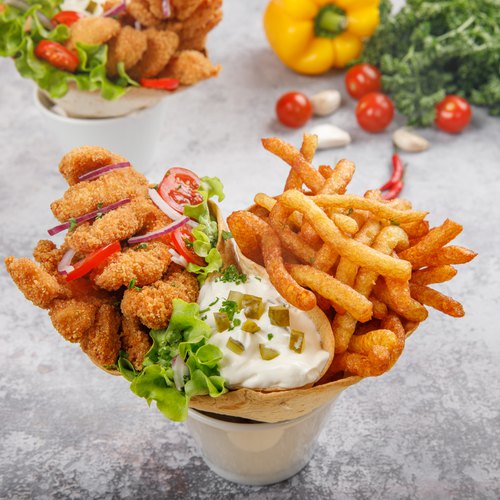 Cluckin Nugget Fries
Can't stop chicken out this recipe 😆🍟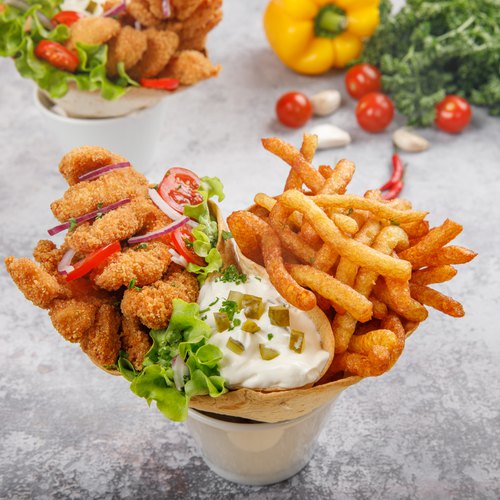 ---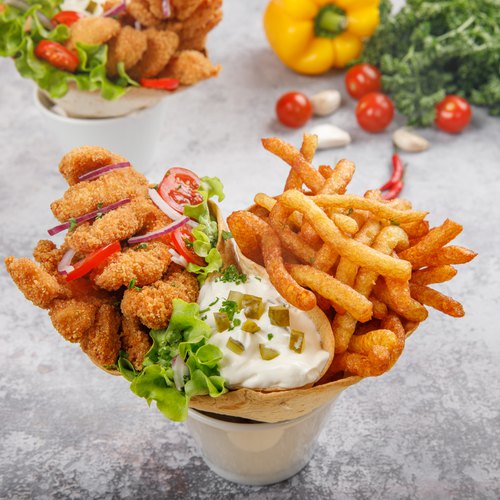 ---
Total time: 30 minutes
Cook time: 30 minutes
Ingredients for 3 people
3 tortillas
3 chicken breasts
1 salt
1 pepper
4 eggs
1 breadcrumbs
1 chefclub chicken spice mix
1 l of vegetable oil
2 cups of mashed potatoes
3 tbsp of corn flour
1 salad
1 tomato
1 red onion
4 tbsp of cream
2 1/2 tbsp of cream cheese
2 pickles
---
Tools
Toothpicks
Kitchen twine
---
Step 1/4
Take tortillas and fold inwards to create 3 pockets. Use toothpicks to hold in place. Bake 10 minutes at 350F.
Step 2/4
Take chicken breasts and cut small slits on the outside to resemble feathers. Pass a piece of kitchen twine through all 3 breasts. Cover in flour, followed by 2 eggs and then the breadcrumbs seasoned with Chefclub chicken spice mix. Fry in hot oil at 330F until golden brown.
Step 3/4
Mix remaining eggs, corn flour, mashed potatoes, salt and pepper in a bowl. Place in a plastic cooking bag and cut off a corner. In a large pot with hot oil, secure both handles with kitchen twine. In a zig-zag motion add mashed potato mixture to form fries. Fry until golden brown.
Step 4/4
In one of the larger tortilla pockets place chicken, salad, tomatoes and red onion. In the other large pocket place the fries inside. In the middle pocket add the cream cheese mixture and sprinkle with chopped pickles. Serve and enjoy!