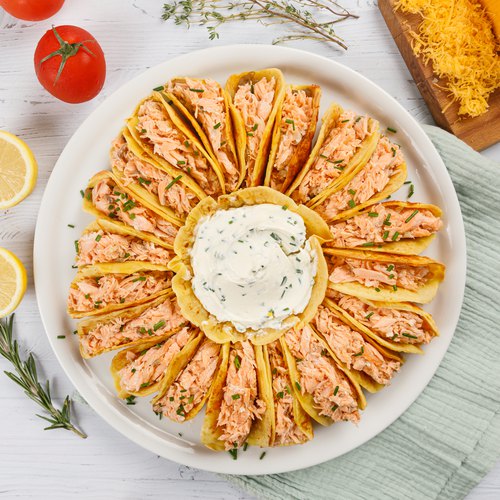 Spectacolar Salmon Sea Dish
Spectacolar Salmon Sea Dish! Seas the day with this recipe 🤗🐟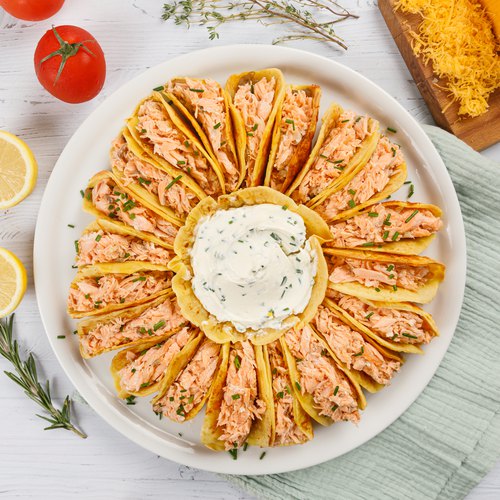 ---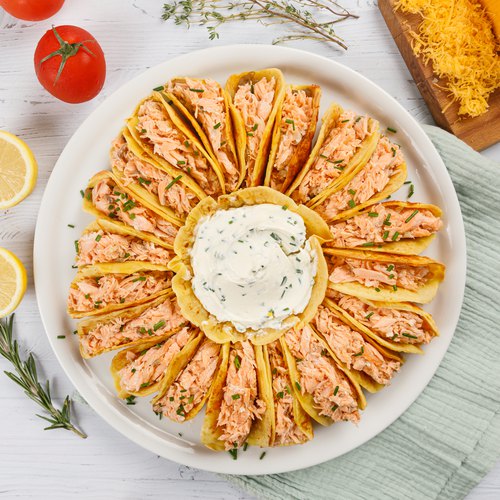 ---
Total time: 1 hour 20 minutes
Prep time: 35 minutes, Cook time: 45 minutes
Ingredients for 5 people
1 cup of flour
4/5 cup of milk
2 pinches of salt
7 oz of cheddar cheese
2 onion
4 tbsp of brandy
3 cups of coarse salt
2 salmon fillets
2 egg whites
7 oz of cream cheese
0.4 cup of lemon juice
Thyme
Chives
---
Tools
parchment paper
---
Step 1/4
Mix the flour, milk and salt together. Allow to rest 30 minutes.
Step 2/4
Sprinkle the grated cheddar in the center of a hot pan, pour the batter in the center of the cheese, spread the batter then flip it over. Repeat the process 11 times, place the pancakes around the edge of a mold (they will be shaped like tacos). Bake for 15 minutes at 320°F. Cook another pancake and place it in a bowl so that it has the same shape.
Step 3/4
Cut the onion into pieces, brown them in the pan then flambé with the brandy. Mix the coarse salt with the egg whites, thyme and water. Place half of the coarse salt on a baking sheet lined with parchment paper, place the salmon fillets on top of each other then cover the salmon fillets with the coarse salt mixture. Bake for 30 minutes at 390°F.
Step 4/4
Mix the cream cheese, chives and lemon juice together. Break the salt crust, remove the skin from the salmon then crumble the fish. Garnish the pancakes with the caramelized onions and salmon. Arrange them on a plate with the cream cheese mixture in the centre. Sprinkle with chives and enjoy!