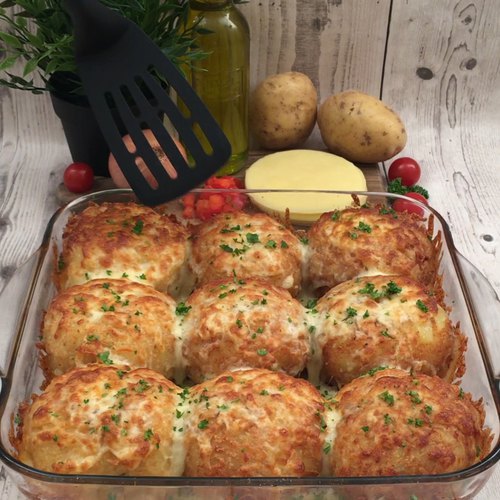 Philly Cheesesteak Balls
You'll reconsider going out for that next Philly cheesesteak!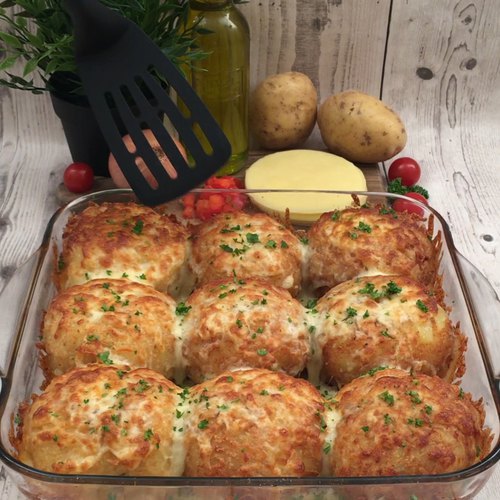 ---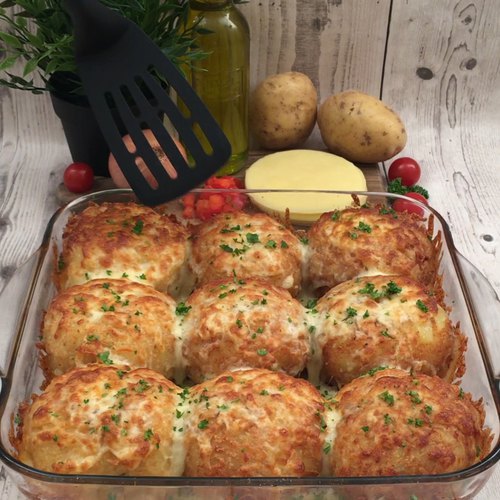 ---
Ingredients for 5 people
3/4 lb of ground beef
1 onion
1 red pepper
1 1/3 cups of beer
1 tbsp of worcestershire sauce
3 1/3 lbs of potatoes
1 1/2 tbsp of butter
3/4 cup of flour
9 slices of provolone cheese
vegetable oil
parsley
salt & pepper
flour, egg, and breadcrumbs for breading
---
Tools
Small bowl
Plastic wrap
Sheet pan
---
Step 1/4
Cook ground beed with chopped onion, diced pepper, salt and pepper. Once cooked, pour in beer and Worcestershire sauce and cook until reduced.
Step 2/4
Peel the potatoes, cook in boiling salted water until tender, then mash. Add melted butter, salt and pepper to taste.
Step 3/4
Line bowl with plastic wrap and cover with mashed potatoes, leaving a hollow center. Fill the bowl with the beef mixture and close the ball, covering the meat with the mashed potatoes. Seal the plastic wrap. Repeat 8 times and place all the balls in the freezer for at least 1 hour.
Step 4/4
Once frozen, remove the plastic wrap and preheat the oven to 350 °F. Roll the mashed balls in flour, egg, then breadcrumbs and fry them. Drain the balls, removing excess oil, and place in a square baking dish. Place 1 slice of provolone on each ball and bake for 15 mins at 350 °F. Once out of oven, sprinkle with chopped parsley and enjoy.
Similar recipes from Chefclub
-
Our other recipes