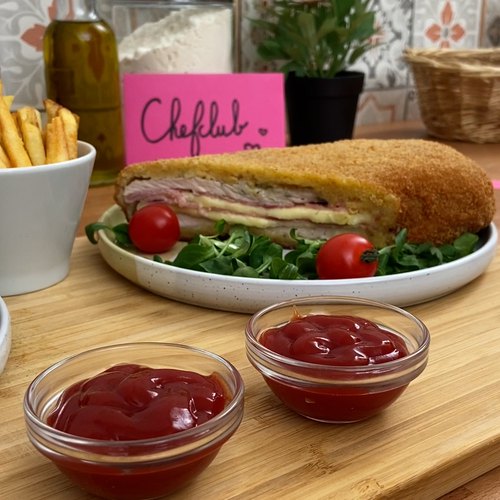 Cupid's Fried Turkey
This recipe may just steal your heart 😉❤️🏹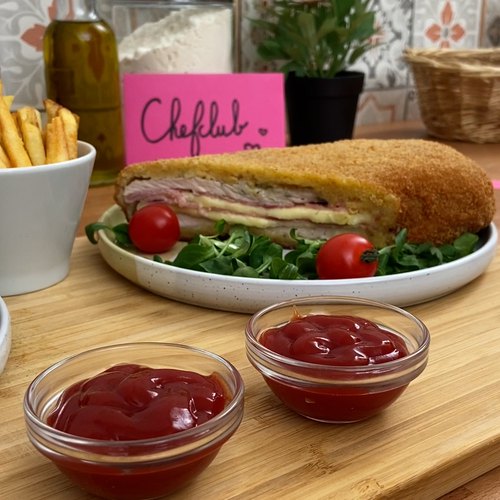 ---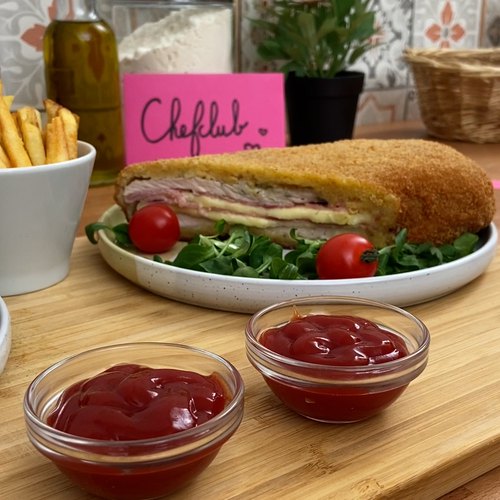 ---
Ingredients for 2 people
2 1/4 lb of turkey breast
10 slices of swiss cheese
2 slices of ham
1 tsp of salt
1 tsp of pepper
1 potato
4 eggs
1 1/4 cups of flour
1 1/4 cups of breadcrumbs
sage
frying oil (vegetable or peanut oil)
---
Tools
Wooden skewers
Paper towels
---
Step 1/3
Cut the edge of the turkey breast to open it in half to obtain a heart shape. Then cut away the edges from each side of the heart to make room for the filling. Cover the heart with slices of swiss cheese and a slice of ham. Cut out a triangle at the top of the ham to define the heart and place the removed piece at the bottom to form the tip of the heart. Repeat a second time with remaining cheese slices and ham. Fold over the edges of the turkey breast to close the heart and sprinkle with salt, pepper, and chopped sage. Make one last small cut on each side of the heart and fold the meat inwards. Sprinkle with sage and place in the freezer for 1 hour.
Step 2/3
Place the heart in a dish filled with flour and evenly coat it with flour. Shake to remove the excess and brush it with beaten eggs on both sides. Place in a dish filled with breadcrumbs and coat evenly. Repeat the beaten egg and breadcrumbs steps for a thick breadcrumb crust. Fry the turkey in hot oil until it is a nice golden brown and drain any excess oil with the help of paper towels.
Step 3/3
Cut the potato into French fries and fry them in the remaining hot oil. Thread them onto skewers and plant them on either side of the heart to make an arrow. Cut in half to reveal the delicious gooey swiss cheese and serve with a salad. Enjoy!
Similar recipes from Chefclub
-
Our other recipes