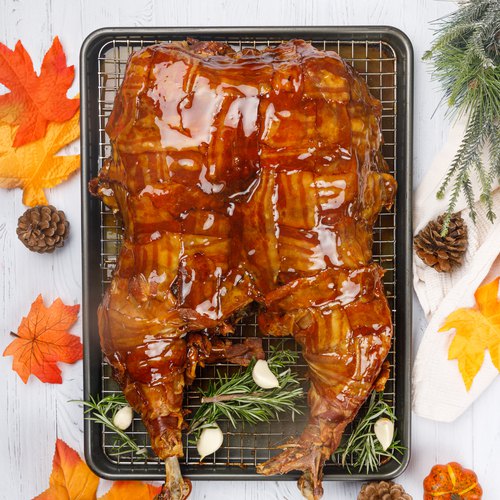 Trippin Turkey Thanksgiving Treat
The whole family will be shouting 'hemp hemp hooray! 😂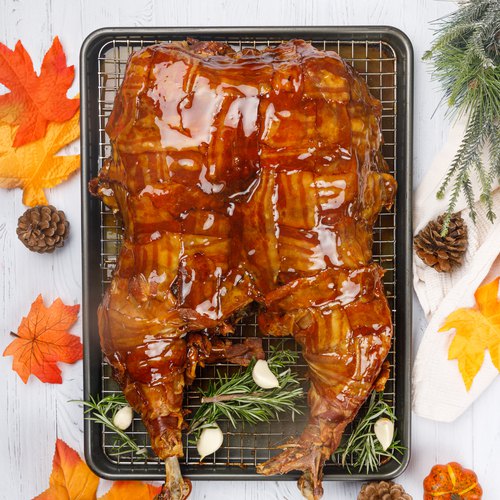 ---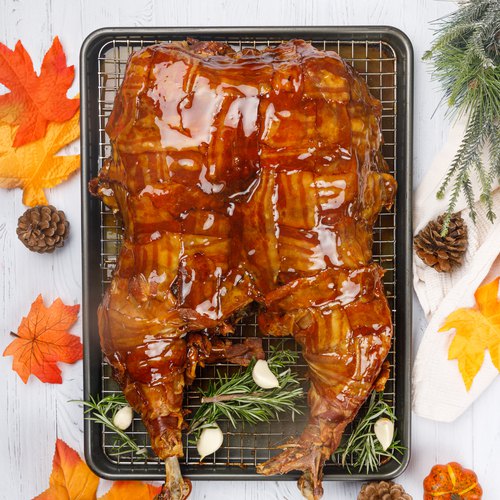 ---
Total time: 5 hours
Cook time: 5 hours
Ingredients for 7 people
1 turkey
6 cups of stuffing
3 tsp of marijuana
1 cup of butter
2 1/2 cups of water
4 rosemary
35 slices of smoked bacon
1/4 cup of maple syrup
1 cup of brown sugar
---
Tools
Aluminium foil
Thermometer
---
Step 1/3
First decarboxylate the marijuana by chopping it into very small pieces. Place in a pyrex dish, and then in the oven at 220F for 40 minutes. Stir every 10 minutes with a spoon. In a sauce pot, add 1.5 cups of water and butter. Once the butter is melted, add in the decarboxylated marijuana. Mix with a wooden spoon and then place a lid on the pot. You will need to cook for 4 hours, stirring every 30 minutes. Use a thermometer to make sure that the temperature doesn't reach over 180F. Strain the butter into a bowl. Place into the fridge to solidify.
Step 2/3
Ask your butcher to spatchcock the turkey and remove the rib cage. Pre-heat oven to 325F. Turn the turkey skin side down. Take butter out of fridge and mix in chopped rosemary. Spread butter between the skin and the meat. Wrap bacon slices around the entire turkey. Place the turkey on a metal grill and place on top of a baking dish. Pour water into dish. Wrap the turkey in aluminum foil. Cook the turkey for 3 hours. Remove aluminum foil and place back into the oven. Cook an additional 10 minutes.
Step 3/3
Make glaze but combining brown sugar, maple syrup, and 1 cup of water to a sauce pot. Let reduce until thick. Add in the rest of the rosemary. Stir and then glaze over the turkey. Serve up with fixings and enjoy!