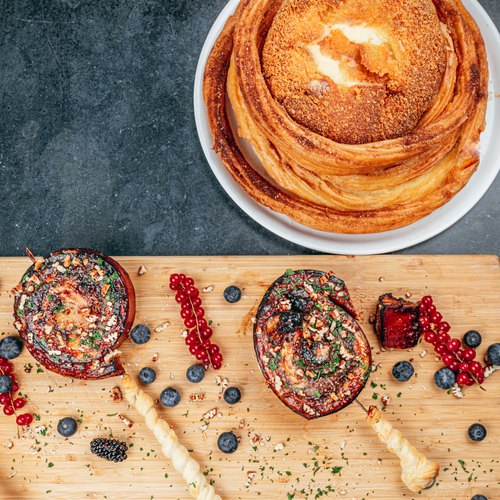 Pork Lollipops & Cheesy Churros
Pork Lollipops & Cheesy Churros! Get ready to party with this savory combo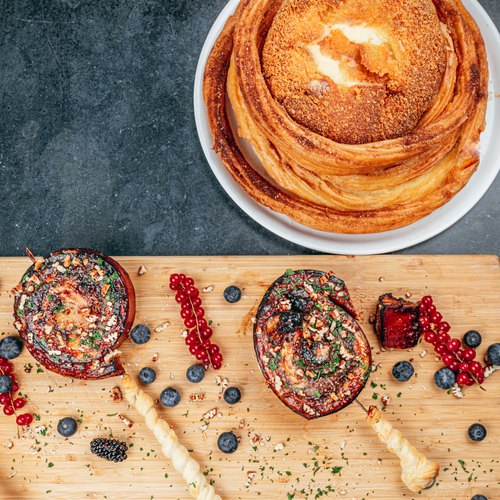 ---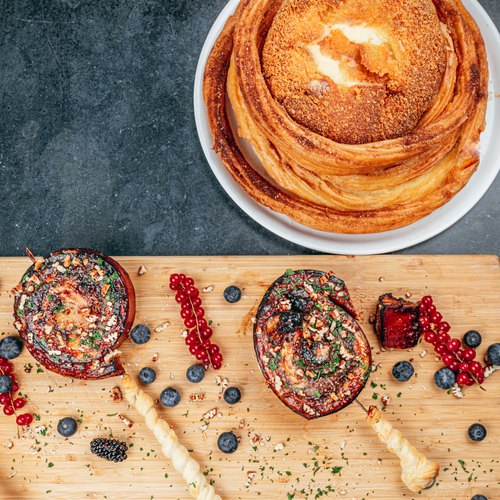 ---
Total time: 1 hour 20 minutes
Prep time: 10 minutes, Cook time: 1 hour 10 minutes
Ingredients for 6 people
Wheel camembert cheese
Honey
Mixed berries
Churro dough
Oil
Cinnamon sugar
Pork belly
Pearl onions
Puff pastry
Bourbon glaze
Herbs
Pecans
---
Tools
Skewers
---
Step 1/3
Start by cutting a crosshatch pattern on the surface of the camembert cheese. Dip the cheese in honey, then toast it on one side. Once toasted, add some berries on top of the camembert, then cover it in churro dough and freeze it. Next, pipe some churro dough on the underside of the camembert. Fry the cheese in hot oil until it turns golden brown, then allow it to drain.
Step 2/3
Cut the pork belly into long strips and twist it. Roll the twisted pork belly onto itself, and stuff it with pearl onions before skewering it. Next, cut a long strip of puff pastry and wrap it around the skewer. Dip the pork belly in bourbon glaze, then bake it at 350°F for approximately one hour.
Step 3/3
Sprinkle the pork belly with crushed pecans and herbs. Serve with the camembert churro and enjoy!