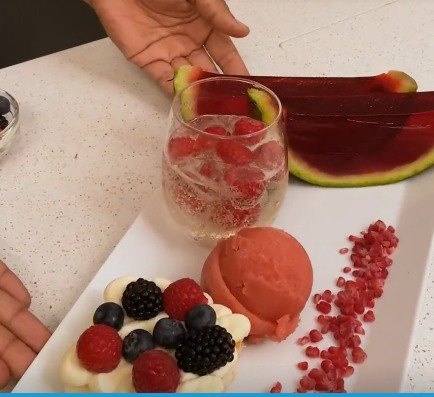 Angel Food Cake & Watermelon Jello Shots
Angel Food Cake & Watermelon Jello Shots! This recipe is a little slice of heaven 😇🍉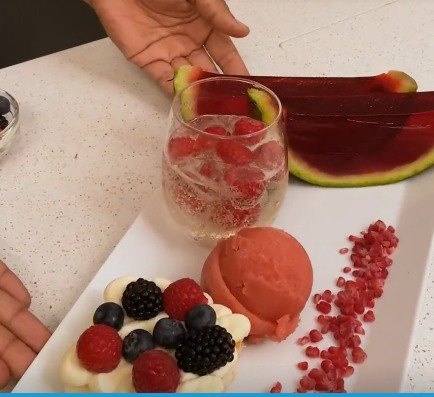 ---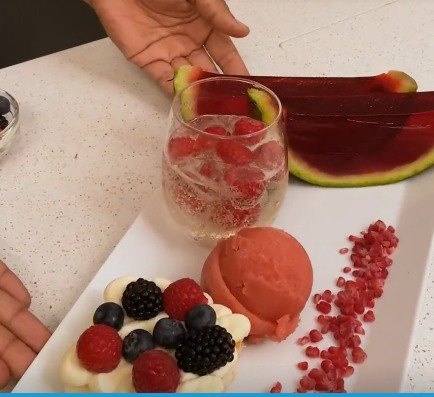 ---
Total time: 1 hour
Prep time: 5 minutes, Cook time: 30 minutes, Rest time: 25 minutes
Ingredients for 6 people
1 box of angel food cake mix
2 tsp of champagne
1 watermelon
1/2 cup of honey
Raspberries
2 boxes of jello packets
1 cup of vodka
1 cup of boiling water
1 cup of whipped cream
---
Tools
Immersion blender
Ziplock bag
---
Step 1/4
Mix cake mix according to instructions on box and replace the water with champagne. Pour into in a square baking dish. Bake at 325°F for 25 minutes. Remove cake and cool.
Step 2/4
Cut watermelon in half and scoop out the insides. Add to a bowl and set aside. Add jello to a bowl and add 1 cup of boiling water and 1 cup of vodka. Once jello powder has dissolved add to hollowed watermelon and refrigerate. Once solid, cut into wedges.
Step 3/4
Add raspberries and honey to the watermelon pieces. With an immersion blender, pulse until all fruits turn into a puree. Add to a dish and freeze. Freeze 5 raspberries in a ziplock bag.
Step 4/4
Slice cake into squares. Top with whipped cream and fresh berries. Remove ziplock with raspberries and smash to create small pieces for decoration. Add sliced watermelon to plate. Add raspberries to a cup with ice and add champagne. Serve and enjoy!