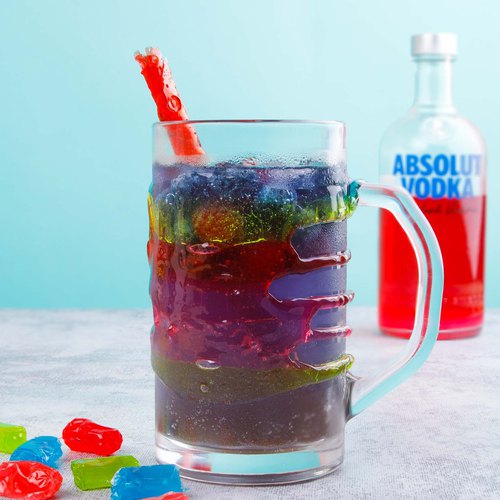 Vodka Rainbow Smoothie
Vodka Rainbow Smoothie! Time to taste that boozy rainbow 😋🌈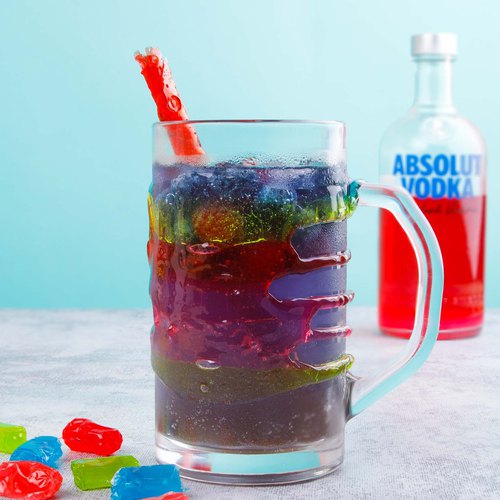 ---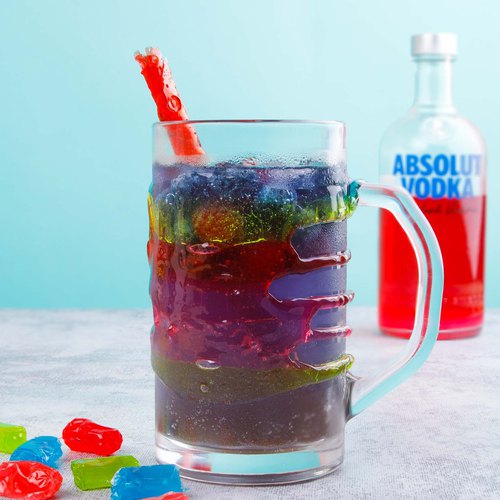 ---
Total time: 4 hours
Rest time: 4 hours
Ingredients for 3 people
1 bottle of vodka
1 bottle of sprite
2 bags of jolly ranchers
2 bottles of powerade drink
1 cup of mixed berries
Luster dust
---
Tools
Ice cube trays
Blender
Skewers
Mugs
Nonstick silicone baking mat
---
Step 1/5
Ideally the day before (or 3-4 hours ahead of when you would like to serve the drink), fill the bottle of vodka 1/3 of the way with red and pink jolly ranchers. Add in luster dust. Place the cap back on the bottle and give it a swirl. The longer the bottle sits, the more the jolly ranchers will have time to dissolve which will enhance the color and flavor of the drink.
Step 2/5
Pour the powerade into the ice cube trays and freeze until solid.
Step 3/5
On a baking sheet lined with a silicone baking mat, line up 3 rows of jolly ranchers. Bake at 400°F for 5 miutes until the jolly ranchers have melted. Wait a minute until the candy has cooled enough then roll around a skewer to create a straw. Remove the skewer before the candy hardens completely. Set aside.
Step 4/5
On the same baking mat, place the mugs on their side. Line jolly ranchers on each mug and bake a few minutes. Remove from oven and allow to cool.
Step 5/5
In a blender place the powerade ice cubes, sprite and jolly rancher vodka. Mix until smooth. Pour in mugs and serve with jolly rancher straw. Enjoy!