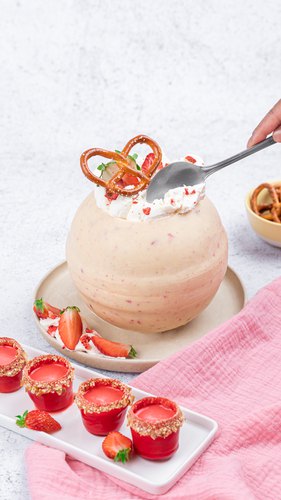 Strawberry & Pretzel Parfait
Strawberry & Pretzel Parfait! Served with fruity vodka shots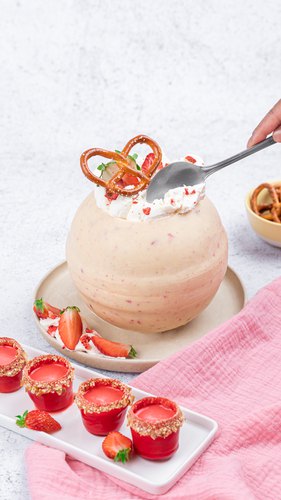 ---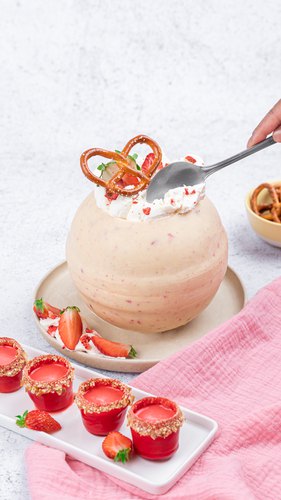 ---
Total time: 35 minutes
Prep time: 35 minutes
Ingredients for 4 people
Freeze-dried strawberries
Freeze-dried raspberries
Vodka
Agar agar
White chocolate
Whipped cream
Pretzels
Fruit juice
Raspberry syrup
Strawberries
---
Tools
Mini plastic cups
---
Step 1/3
Chop the freeze-dried strawberries and combine them with melted white chocolate. Coat the sides of 2 large bowls with the chocolate and remove the excess. Let the chocolate solidify before removing it from the bowls. To form a sphere, warm one of the chocolate shells on the bottom of a heated pot and attach it to the other shell.
Step 2/3
Warm up a cake ring and then make a hole on the upper part of the chocolate sphere. Next, layer the sphere with whipped cream, freshly sliced strawberries, and crushed pretzels. Top the sphere with strawberries, dried raspberries, and pretzel pieces to decorate.
Step 3/3
Take small plastic cups and dip them into the agar agar fruit juice, layering the juice repeatedly to create cups. Unmold the juice cups and sprinkle crushed pretzels around the edges. Fill the juice cups with vodka, serve with the parfait, and enjoy!