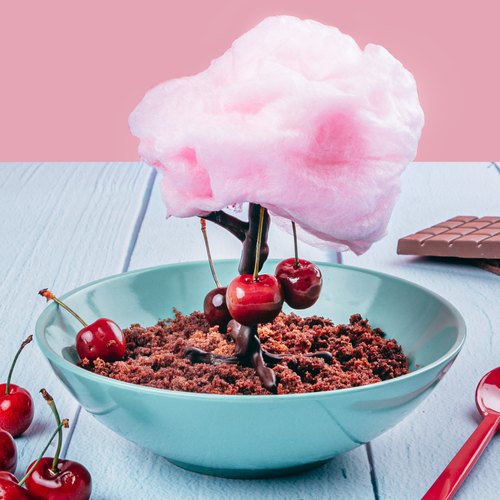 Cotton Candy Cherry Tree
Cotton Candy Cherry Tree! You will love this dessert cherry much 🍒🥰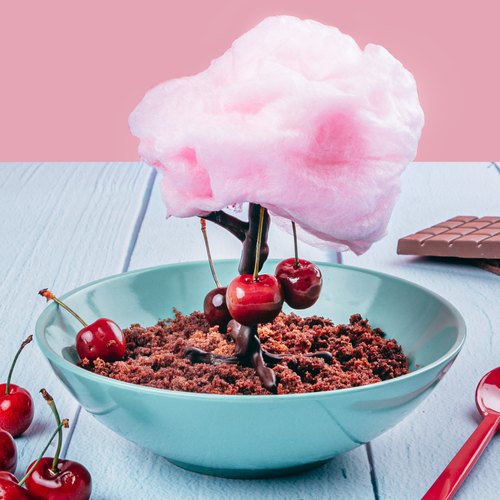 ---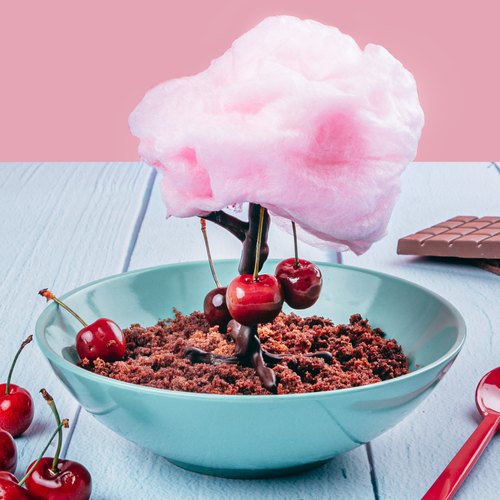 ---
Total time: 3 hours
Prep time: 20 minutes, Cook time: 40 minutes, Rest time: 2 hours
Ingredients for 3 people
3 cups of cherries
3 cups of bourbon
2 1/2 cups of sugar
1 vanilla bean
Water
Ice
2 cups of melted dark chocolate
2 cups of flour
1 tsp of salt
1 tsp of baking soda
12 oz of dr. pepper can
1 cup of butter
1/4 cup of cocoa powder
1/2 cup of buttermilk
2 egg
1 tsp of vanilla extract
1 container of cotton candy
1 container of berry sorbet
---
Tools
Piping bag
Cotton candy machine
---
Step 1/5
Fill a jar with fresh cherries, rinsed with the pits and stems still attached. In a small saucepan, stir together the sugar, bourbon and vanilla bean. Bring to a simmer for 10 minutes then pour over the cherries until the liquid reaches the top of the jar. Allow to cool and refrigerate (ideally for one week before using).
Step 2/5
Fill a large bowl with crushed ice and water a few inches deep. Fill a piping bag with melted chocolate. Pipe a tree shape onto the ice water. Wait a couple minutes for the chocolate to harden then turn the tree to the side and continue the same process. Set the tree aside and make 2 more trees.
Step 3/5
Preheat the oven to 350°F. In a mixing bowl stir together the flour, sugar, salt and baking soda. In a small saucepan, add the butter, cocoa powder and can of cherry soda. Bring to a boil until butter is melted then remove from heat. In a small bowl whisk together the buttermilk, eggs and vanilla extract. Pour the cherry soda mixture into the flour. Stir to combine. Add in the buttermilk mixture and mix until you obtain a smooth batter. Pour into prepared pans and bake for 25 minutes. Allow the cake to cool completely before using a fork to create cake crumbs.
Step 4/5
Follow the machine's instruction to make 3 cotton candies. Carefully pull the cotton candy and place it around the branches of the chocolate trees.
Step 5/5
Cut the pint of ice cream into 3 slices. Place each slice onto a plate. Cover with the cake crumbs. Place a chocolate tree covered with cotton candy on top and decorate with the bourbon infused cherries. Enjoy!