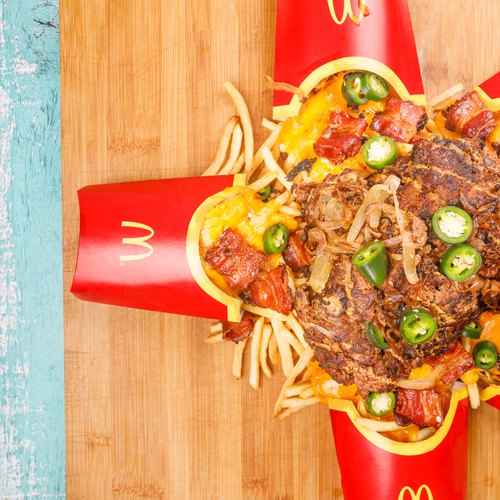 Smash Burger Bacon Loaded Fries
You won't find that beauty at your local fast food :)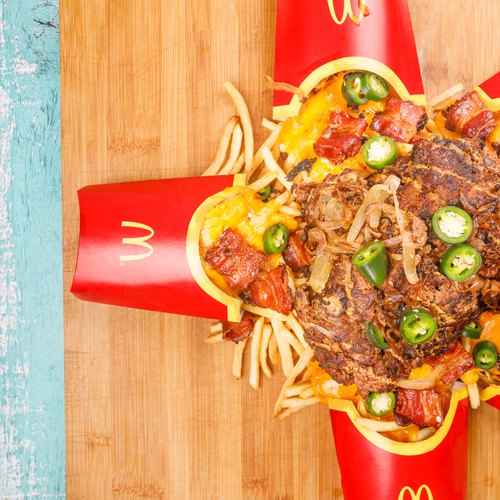 ---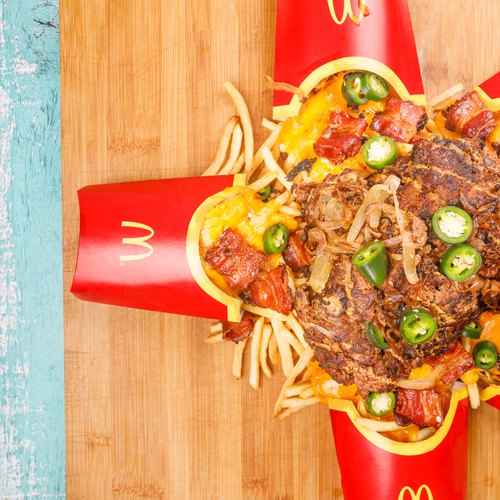 ---
Total time: 40 minutes
Cook time: 40 minutes
Ingredients for 8 people
2.2 lb of ground beef
2 eggs
2 tsp of salt
2 tbsp of bbq mix
3 onions
4 tbsp of mustard
1 tsp of pepper
6 pickles
4 jalapeños
3 tbsp of bbq sauce
1 boîte of cheddar
6 boîtes of mcdonald's french fries
20 slices of bacon
2 tsp of brown sugar
---
Step 1/4
Chop onions very thinly. Slice pickles and jalapeños. Set aside. Add cheddar into a casserole dish. Mix hamburger meat with the eggs, salt, and BBQ spice in a mixing bowl.
Step 2/4
Order fries from McDonalds or bake/fry fries at home. Turn your oven to 350 degrees F and cook on medium-high heat. Divide hamburger meat into small balls and set in the bowl.
Step 3/4
Roll up bacon slices and sprinkle with brown sugar. Bake in preheated oven until done. Take your burgers and place on a hot pan/plancha and press down using your spatula. Add the onions with the oil to cook them fully. Once cooked on one side, flip to cook the other side. Once flipped over, add mustard, some onions, and some sliced pickles. Stack the burgers one on top of the other and then chop roughly. Squirt additional mustard. Continue with all burgers and set aside. Place a casserole dish with the cheese into the oven to melt and scorch slightly.
Step 4/4
Place fries on a serving plate. Pour melted cheese over fries in circular motion. Add caramelised onions and bacon. Then top with the "smashed hamburgers". Sprinkle with sliced jalapeños. Enjoy!