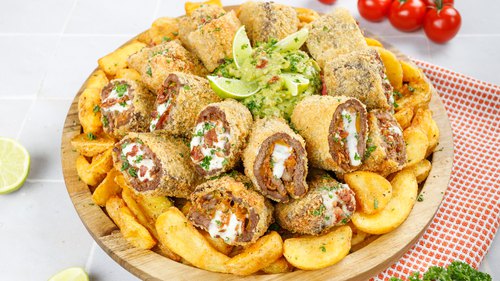 Crispy Cheeseburger Appetizer Rolls
Crispy Cheeseburger Appetizer Rolls! Let the good times roll with this delicious recipe! :)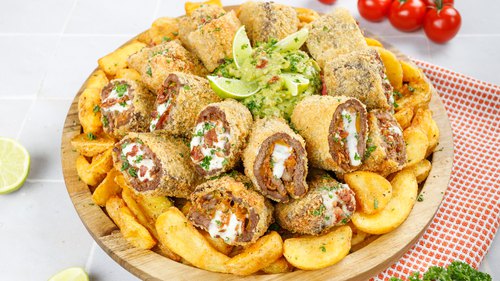 ---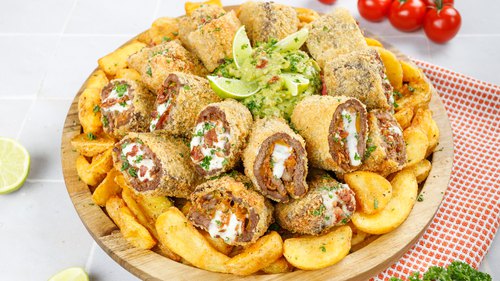 ---
Total time: 4 minutes
Cook time: 4 minutes
Ingredients for 4 people
2.2 lb of ground beef
salt
pepper
1/2 tbsp of garlic powder
1/2 tbsp of paprika
1/2 cup of bbq sauce
1 cup of cheddar cheese
4 sliced jalapeños
9 bacon slices
flour
10 eggs
breadcrumbs
3 cups of guacamole
1 cup of ranch dressing
1/2 tbsp of parsley
3 1/2 cups of potatoes
---
Tools
Cling wrap
Parchment sheet
---
Step 1/4
On a baking sheet add salt, pepper, garlic powder and paprika. Take ground beef and form into large ball. Roll the meat through the spices then mix until well blended. Spread ground beef on a sheet of parchment paper. Cover with another sheet. With the help of a rolling pin spread evenly. Cut into 3 large rectangles.
Step 2/4
Remove 1 layer of sheet and place flat on a hot grill. Remove remaining parchment paper. Add shredded cheddar, BBQ sauce, sliced jalapeños and diced cooked bacon on top of the meat. Allow to cook fully. Place ground beef, meat side down on a sheet of parchment paper and roll closed into a log shape. Make sure the condiments stay in the middle. Take meat log and roll in cling wrap. Allow to rest 5 minutes.
Step 3/4
In 3 seperate bowls, place the flour, eggs and breadcrumbs. Remove cling wrap and parchment paper. Roll meat log through the flour, followed by the eggs and finally the breadcrumbs. In hot oil, fry the meat until golden brown.
Step 4/4
Cut the stuffed meat log into large rounds. Fill with the ranch dressing. Serve on a plate with guacamole in the middle. Sprinkle parsley on top. Serve and enjoy!