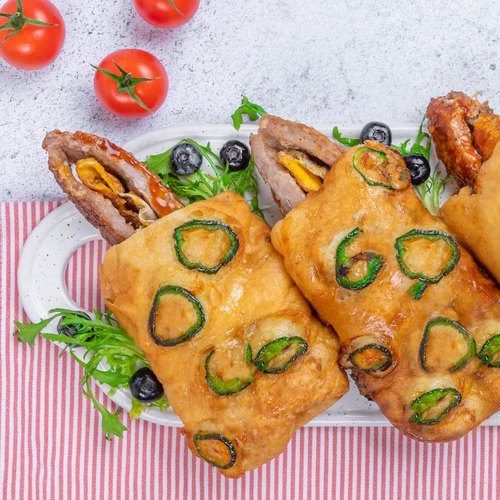 Fried Breakfast Hot Pockets
Fried Breakfast Hot Pockets! Tastes just like childhood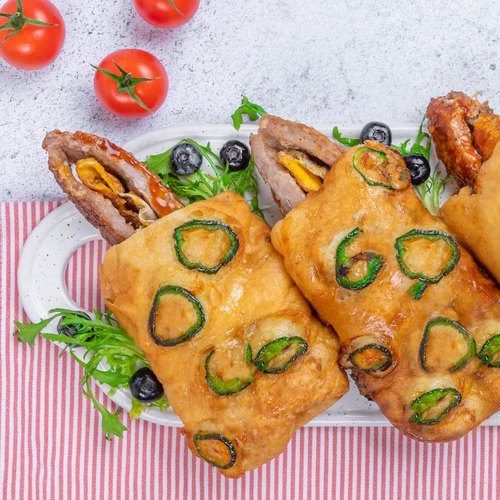 ---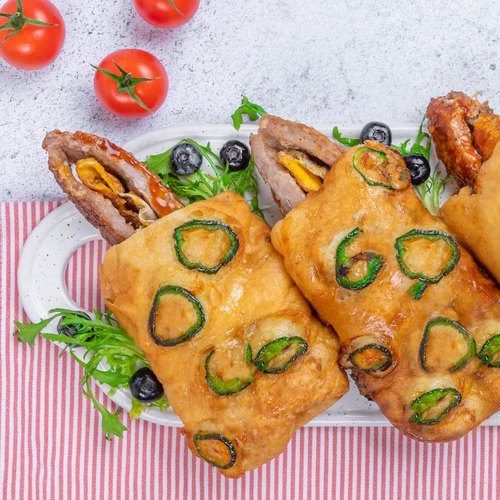 ---
Total time: 45 minutes
Prep time: 30 minutes, Cook time: 15 minutes
Ingredients for 4 people
10 egg
Spices
3 potatoes
3/4 cup of flour
Pancake batter
2 slices of bacon
3 jalapeños
Breakfast sausage
Maple syrup
Shredded cheddar cheese
---
Step 1/3
Dip two spatulas in the pancake batter, add two slices of bacon and fry in hot oil. Take out the spatulas and allow them to drain. Dip into the pancake batter and roll them in the sliced jalapeños. Fry in the hot oil until golden brown.
Step 2/3
Cook the eggs over a plancha with your favorite spices. Spread the sausage meat between 2 sheets of parchment paper. Roll the eggs with cheese and add the sausage to the plancha. Mix the grated potatoes and flour together. Place next to the sausage and allow to cook fully. Roll everything together.
Step 3/3
Cut the roll into pieces and place in the pancake pocket. Drizzle with maple syrup and enjoy!