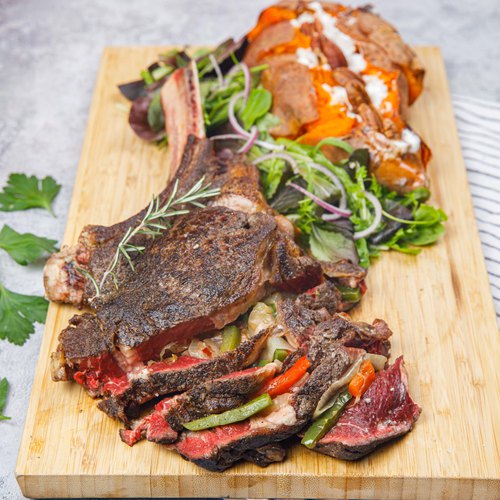 Howdy Roadhouse Steak
Howdy Roadhouse Steak! You can hang your hat on this meaty recipe 😋🍖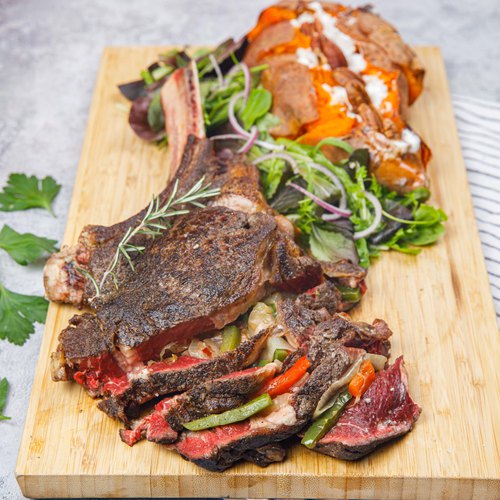 ---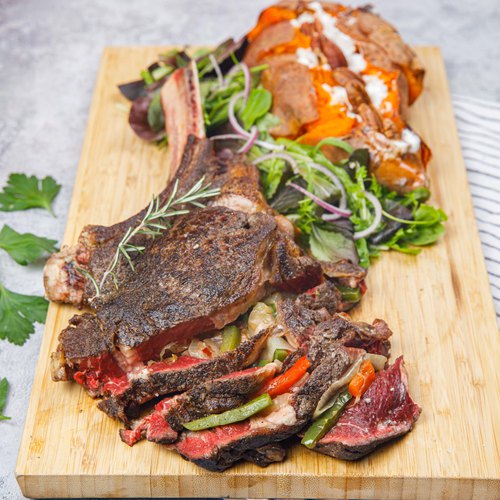 ---
Total time: 1 hour
Cook time: 1 hour
Ingredients for 3 people
1 tomahawk steak
2.2 pounds of butter
2 tbsp of chefclub bbq spice mix
salt & pepper
3 sweet potato
1/2 onions
1 yellow bell pepper
2 red bell pepper
1 tsp of parsley
3 tbsp of pecans
15 marshmallows
---
Step 1/4
Place sweet potatoes in oven at 320°F for 1 hour wrapped in foil. Remove from oven and cut open with a knife. Place butter and marshmallows then place face down on the grill for about 1 minute then flip and top with chopped pecans.
Step 2/4
Take the tomahawk steak and cut an opening to create a pocket. Hold it by the end of the bone and dip it in melted butter. Add Chefclub BBQ spice mix and soak the steak once more.
Step 3/4
Fill in the steak pocket with grilled onions, yellow and red bell peppers seasoned with salt, pepper and parsley.
Step 4/4
Place the steak on a hot hot grill to get a perfect sear on all sides and the fat cap. Baste the steak with BBQ butter during the cooking process. Serve and enjoy!