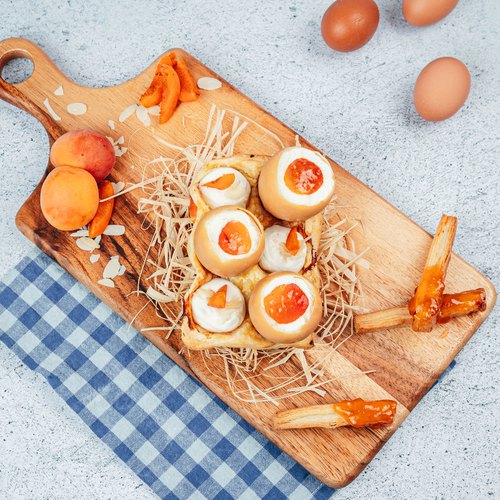 Egg Carton Illusion
Egg Carton Illusion! An egg-citing and sweet recipe 😋🥚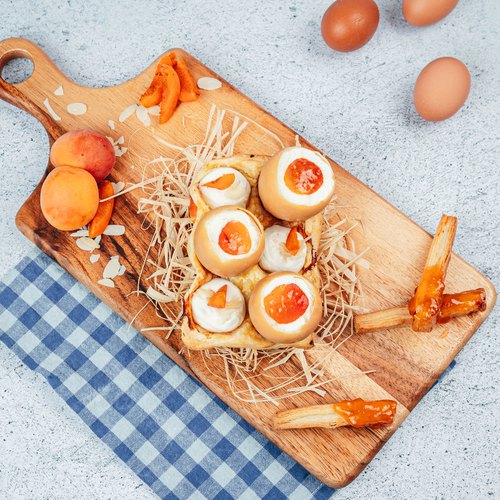 ---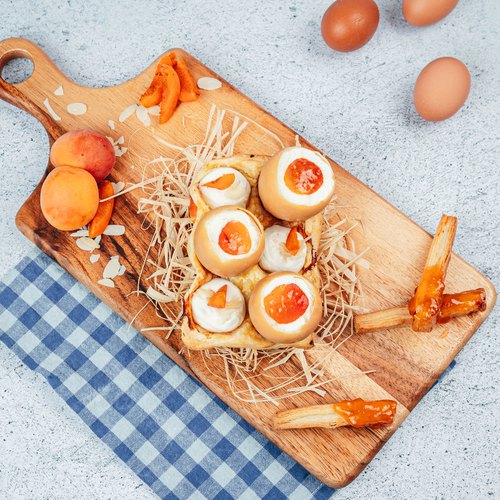 ---
Total time: 55 minutes
Cook time: 25 minutes, Rest time: 30 minutes
Ingredients for 6 people
3 1/2 oz of white chocolate
3 1/2 oz of dulcey chocolate
0.4 cup of heavy cream
3 1/2 oz of mascarpone
10 apricots
1 puff pastry
1 egg
Rosemary
3 1/2 tbsp of butter
3 1/2 tbsp of almond flour
4 tbsp of sugar
Sliced almonds
Apricot jelly
---
Tools
Balloons
Egg carton
---
Step 1/3
Inflate small balloons. Dip them in white chocolate and then in dulcey chocolate. Allow to set for 30 minutes. Fill with mascarpone cream and apricot jelly. Add sliced almonds on top.
Step 2/3
Add the puff pastry to the egg carton (sink in the holes). Mix the almond flour, egg, butter and sugar together. Add the almond cream, egg, apricot and almonds to the egg carton holes. Cut strips in the excess puff pastry and bake 25 minutes at 340°F.
Step 3/3
Place the fake eggs on the puff pastry. Serve with the puff pastry strips. Add rosemary for decoration and enjoy!