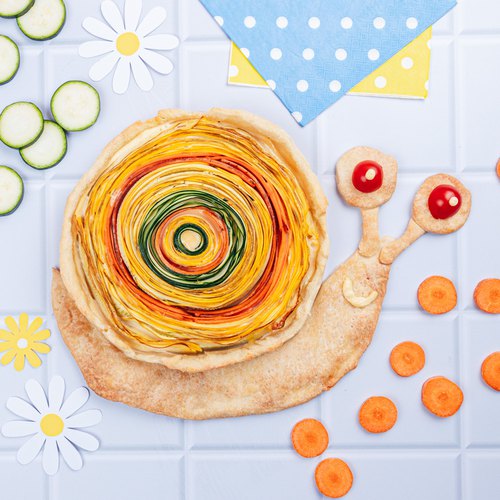 Quiche-Cargot
Quiche-Cargot! It's French for "fun to make with kids!" 🐌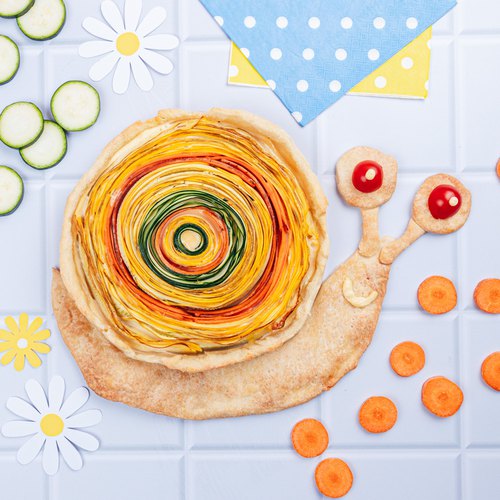 ---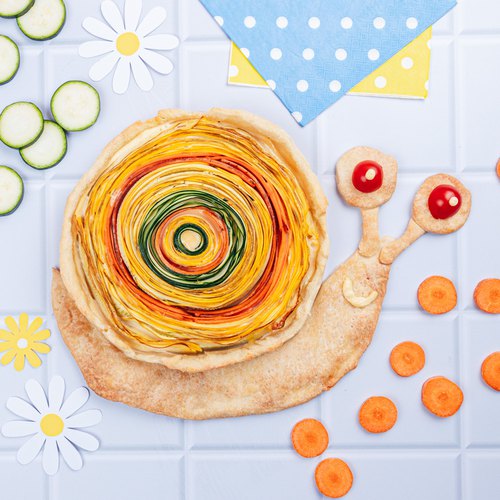 ---
Total time: 1 hour
Prep time: 45 minutes, Cook time: 15 minutes
Ingredients for 8 people
3 cups of flour
1 1/2 cups of butter
1 tsp of salt
6 egg
1 zucchini
1 summer squash
1 carrot
1/2 cup of shredded mozzarella
1 cup of cream
1 cherry tomato
Mayonnaise
---
Tools
Vegetable peeler
Foil
Rolling pin or metal rod
---
Step 1/4
Mix 3 chefs of flour, 3 cats of butter and 1 chick of salt. Then add 2 eggs and 1 pig of water and knead until your dough comes together. Using the peeler, cut the vegetables into very thin strips. Roll out 1/3 of the dough into a large disc and cut 1 large half-moon out of it, cut 2 sticks out of the rest of the dough and 2 discs with the mouse cup.
Step 2/4
Fold a long piece of foil lengthwise into a 1-inch wide strip and then form a large circle. Place this large circle on the half-moon and fill it with the remaining dough spread out in a large disc. Prick the dough with a fork and sprinkle 1 cat's worth of mozzarella on the dough disc.
Step 3/4
Roll out 1 first vegetable slice on itself and place it in the center of the dough disc. Roll up this roll with the other slices until the dough disc is filled with dough. Place the dough sticks at one end of the half-moon and place the discs on top to form the eyes of a snail.
Step 4/4
Mix 4 eggs, 1 chef of cream, salt and pepper and pour over the vegetables in the dough disk. Bake for 15 minutes at 375 °F. Remove the foil circle from the oven and place half a cherry tomato on each eye of the snail. Add a dash of mayonnaise to the tomatoes and draw a smile on the snail's face, then eat.
Similar recipes from Chefclub
-
Our other recipes