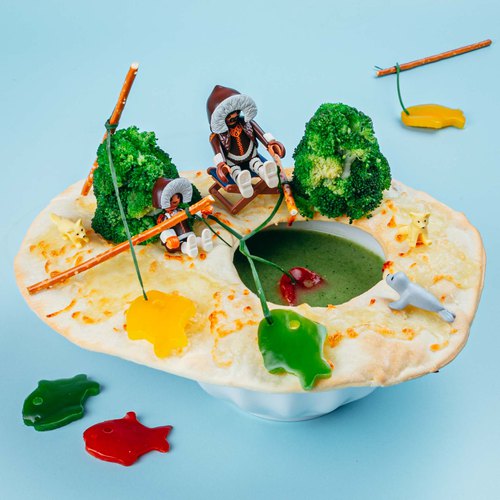 Go Fish Soup
Go Fish Soup! A fun recipe to do with the kids 😃🐟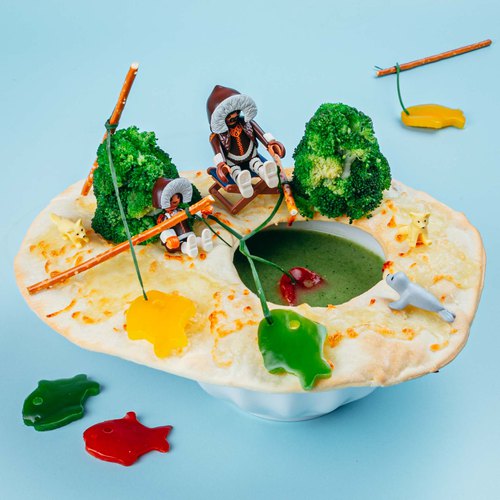 ---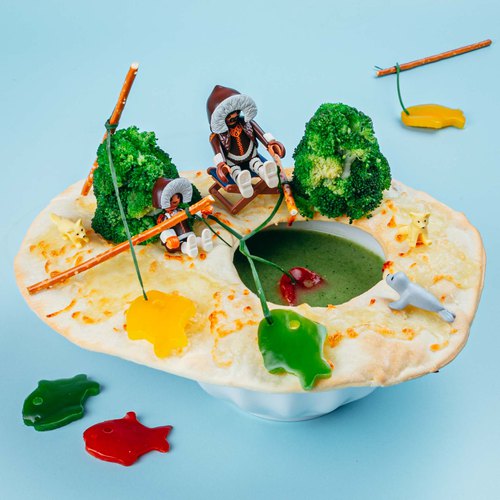 ---
Total time: 1 hour 5 minutes
Prep time: 45 minutes, Cook time: 20 minutes
Ingredients for 3 people
1 zucchini
1 broccoli
2 potatoes
1 pizza dough
1 oz of mozzarella
3 pretzels
Chives
1 red bell pepper
1 yellow bell pepper
1 green bell pepper
---
Tools
parchment paper
fish cookie cutter
Chefclub baking mat
Skewer
---
Step 1/3
Cut the zucchini into slices and a potato into pieces. Place the zucchini, half the broccoli, half the potatoes in a pan and add 2 chefs of water, 1 pinch of salt and cook the vegetables. Pour the preparation into a blender and blend until smooth. Cut a circle in the pizza dough, cut the contours of the pizza dough to form an oval, sprinkle with 1 mouse of grated mozzarella, place the pizza dough on a baking sheet and bake for 15 minutes at 390°F.
Step 2/3
Cut the bell peppers in 2 and form fish with each pepper using the fish cookie cutte. Cut out a circle to form the eyes and a smaller circle using a skewer. Pass the chives through the smaller circle, tie a knot, tie the other end of the chives to a pretzel. Repeat the process for each fish.
Step 3/3
Cook the rest of the potatoes, drain them, mash them to obtain mashed potatoes. Cut the heads from the rest of the broccoli, cook them in boiling water with a pinch of salt. Place 2 hens of mashed potatoes on a baking mat, arrange the broccoli pieces on the mashed potatoes to form a shrub, repeat the process a second time. Pour the soup into a bowl. Place the pizza dough on the bowl, arrange the fishing rods and enjoy!