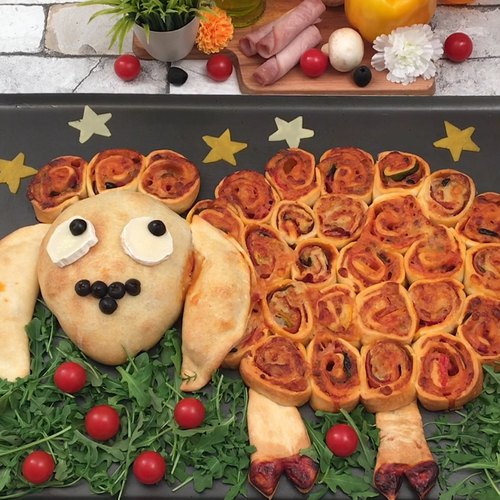 Mary Had a Little Pizza
Can you handle the cute? 🐑💕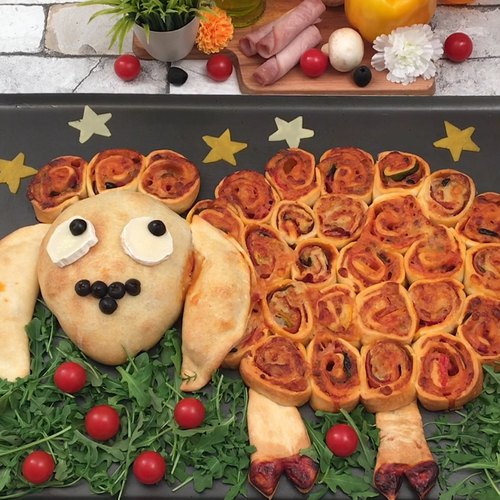 ---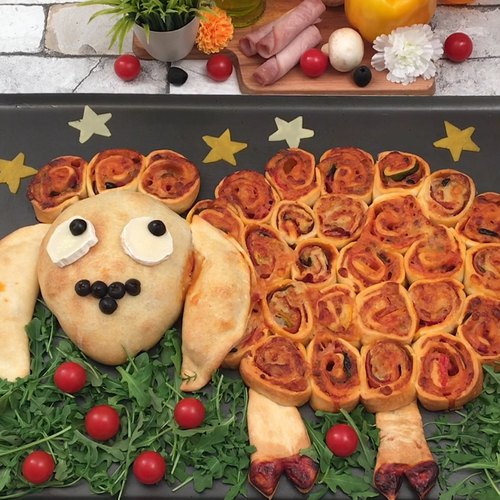 ---
Ingredients for 8 people
2 rectangular pizza doughs
1 1/4 cups of tomato sauce
1 1/2 cups of mozzarella, grated
4 slices of ham
1 1/3 cups of mushrooms, sliced
24 black olives
20 cherry tomatoes
1 yellow bell pepper
1 circular pizza dough
1/2 cup of ham, diced
2 slices of goat cheese
olive oil
basil
---
Tools
Ramekin
Pastry brush
---
Step 1/4
Cover 1 pizza dough with 1/2 cup tomato sauce and lay the basil leaves on top. Sprinkle the pizza with grated mozzarella cheese and add the slices of ham cut into strips. Place slices of mushrooms, black olives cut in half, cherry tomatoes cut in half, and pepper slices. Roll the pizza dough widthwise. Freeze for 2 hours. When it comes out of the freezer, cut the roll into slices. Pour 1/2 cup of tomato sauce into the center of the round pizza dough and add the diced ham and grated mozzarella cheese on top. Roll the dough into a ball around the filling.
Step 2/4
Cut the remaining pizza dough in half lengthwise. Take 1 of the 2 parts and add a tablespoon of tomato sauce, a piece of diced ham, and some grated mozzarella cheese in the center of each half of the dough. Fold the left and right sides of the dough over these fillings, making them meet in the center of the dough. Using the ramekin, cut the filled parts of the dough into calzones.
Step 3/4
Cut out 2 sheep's feet from the remaining half of the dough. Arrange the rolls on a baking sheet lined with parchment paper in a large oval to form the body of the lamb. Place the pizza ball next to it to make the head and add the 2 calzones as ears. Place 3 more rolls on top of the head and add the legs.
Step 4/4
Draw the ends of the legs with ketchup, brush the entire lamb with olive oil, and place in the oven for 25 minutes at 400 °F. Remove from the oven and place 2 slices of goat cheese log on top of the lamb's head to make the eyes. Use black olive halves to complete the eyes and form the snout and enjoy.