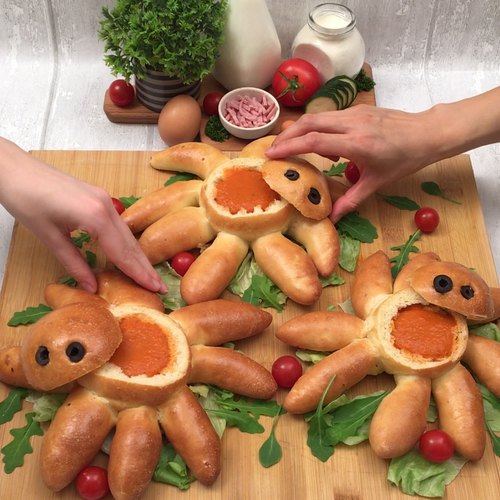 Octopus Pizza
Are you ready for the soup-rise? 🐙🙊🐙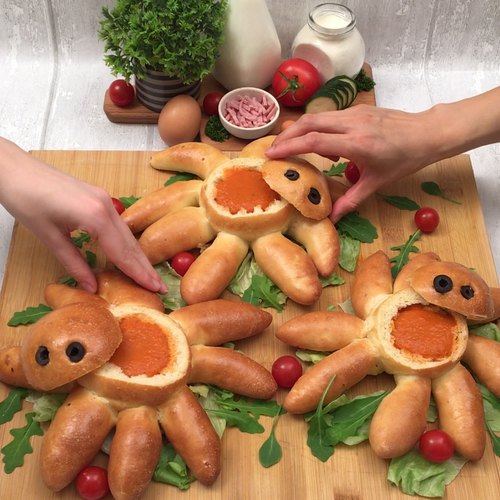 ---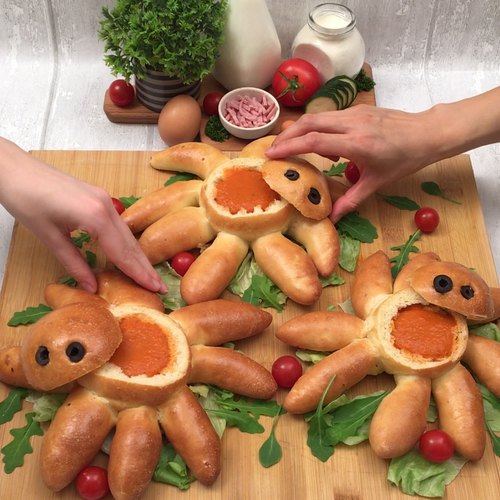 ---
Total time: 35 minutes
Prep time: 35 minutes
Ingredients for 6 people
1 cup of flour (1 chef)
1 tbsp of sugar (1 hen)
1/4 cup of powdered milk (1 mouse)
1 tsp of salt (1 chick)
1 tbsp of yeast (1 hen)
1 egg
1/3 cup of butter (1 cat), room temp
1 1/2 cups of shredded mozzarella (3 pigs)
1 cup of sliced ham (1 chef)
gaspacho
---
Step 1/3
Mix 1 chef of flour, 1 hen of sugar, 1 mouse of powdered milk, 1 chick of salt, and 1 hen of yeast together in a bowl. Mix 1 egg and 1 chef of water (the water should be warm to the touch) and then mix into the flour mixture. Add 1 cat of butter to the dough, then let rise in a plastic wrap-covered bowl in a warm, draft-free place. Once the dough has risen in size (it should be about doubled), form 30 little ball of equal size. Then take 6 balls and combine 2 to make 3 larger balls.
Step 2/3
Roll the little balls into the shape of hot dogs, flatten them and fill with mozzarella and ham, fold the dough over then roll to close. On a parchment-lined baking sheet, place 8 of these filled dough logs around the Kids cat, arranged like rays. Remove the cat and repeat x2. Using the pig, smash the center of the dough logs then place the large ball of dough in the center on top of the smashed dough ends.
Step 3/3
Bake the little dough octopi for 20 minutes at 350 °F, once cooked and cooled, design the eggs with little black olive rounds, cut off the top of the head, press down the interior and fill with gaspacho. Eat warm, dipping the legs in the soup.