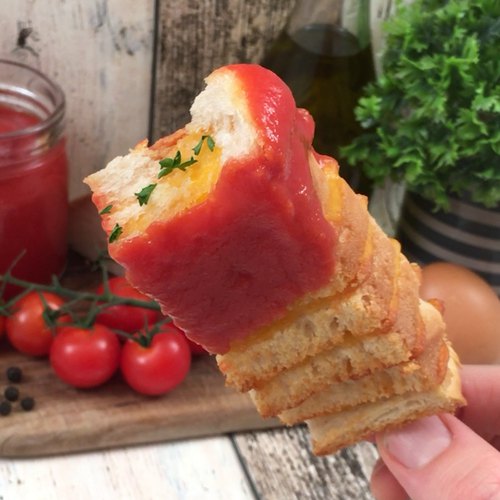 Tomato Soup Fondue
Complete with grilled cheese dippers! 🤩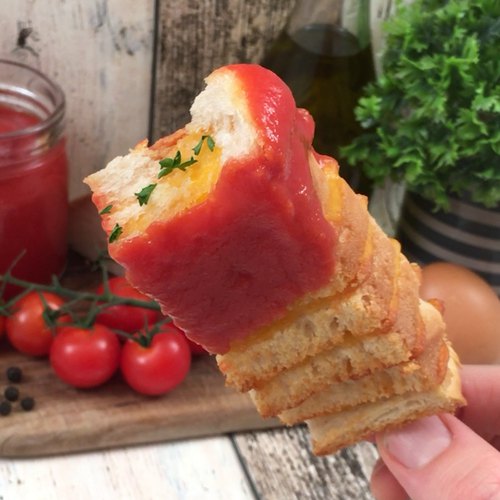 ---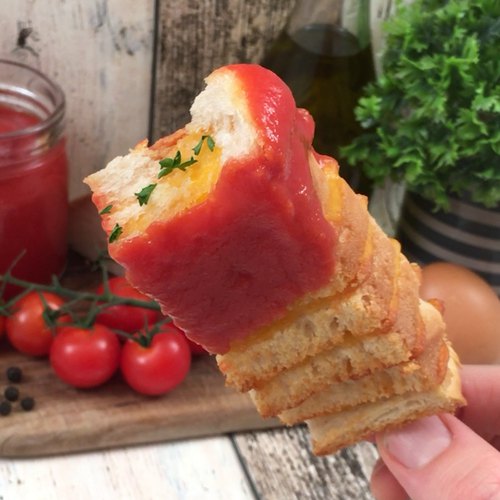 ---
Ingredients for 4 people
2 cans of tomato soup
3 pizza doughs
18 slices of cheddar cheese
10 slices of sandwich bread
1/4 cup of butter
garlic, minced
parsley
---
Tools
Skewers
---
Step 1/4
Freeze 2 cans of opened tomato soup, freeze 1 hour or until solid. Cover pizza dough with cheddar cheese, then cover with a second pizza dough, sealing the edges. Place the two frozen cans of tomato soup on the pizza dough, roll the pizza dough around the tomato soup and a little parsley, carefully closing all seams. Roll in the 3rd pizza dough, and place in the freezer for an additional hour.
Step 2/4
Stack sandwich bread and cheddar cheese, then place 6 skewers into the bread. Cut into long stripes, mixed melted butter with garlic and brush the bread with the garlic butter. Remove the frozen tomato soup log from the freezer and place then place into a ramekin with skewers around the edge for support. Place onto a baking sheet and bake at 350 °F until golden brown, about 45 minutes. Meanwhile, place the skewers on another baking sheet and bake at 350 °F until golden, about 15 minutes.
Step 3/4
Once everything is out of the oven, cut off the top of the tomato soup tower and dip the grilled cheese skewers inside, then start to eat the bread around the soup tower!
Step 4/4
To make the baked potato fondue in the video, search "Baked Potato Fondue"!