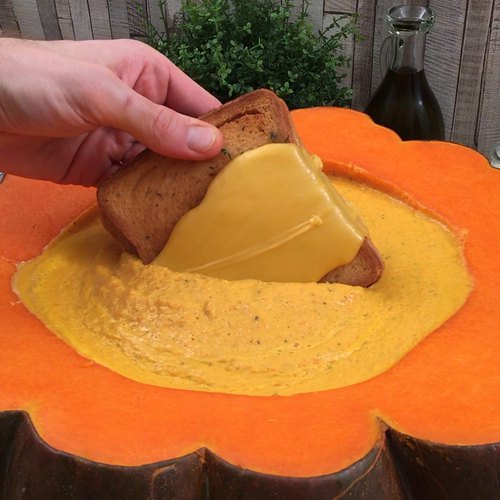 Hello Gourd-geous!
The most beautiful pumpkin soup! 😍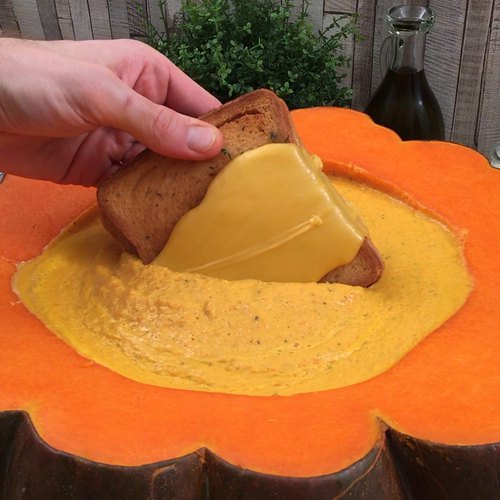 ---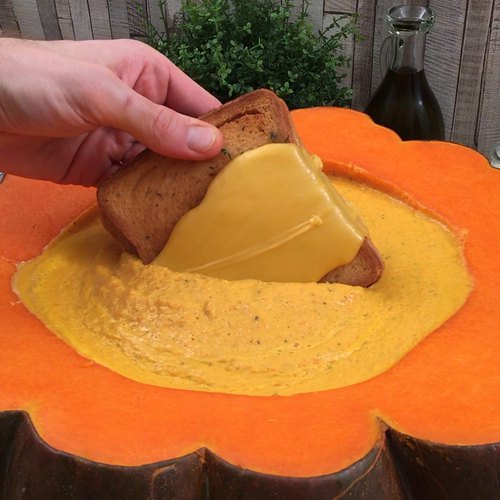 ---
Ingredients for 10 people
1 large pumpkin
4 cupsheavy cream
olive oil or melted butter
salt & pepper
1 tsp of thyme
sliced bread
cheese
ham
cheddar, melted
---
Tools
Immersion blender
Melon baller
---
Step 1/3
Cut the top off of your pumpkin, remove the seeds (set aside for roasting if you'd like), with a melon baller remove the inside of the pumpkin and the lid so that you have plenty of pumpkin while leaving at least 3-inches of flesh around the side. Put all the balls of pumpkin flesh into the cleaned base of the pumpkin and add heavy cream, thyme, salt, and pepper. Bake for 30-45 minutes at 350 °F, depending on the size of your pumpkin.
Step 2/3
While the pumpkin cooks, make grilled ham and cheese sandwiches by brushing the bread with melted butter or olive oil. Grill in a pan. When the pumpkin comes out of the oven, place the sandwiches around the base of the pumpkin.
Step 3/3
Remove the lid from the pumpkin, then using an immersion blender, blend the soup until you have a smooth consistency. Pour melted cheddar cheese over the sandwiches then serve. Putting the soup in bowls or dipping the sandwiches directly in the pumpkin.