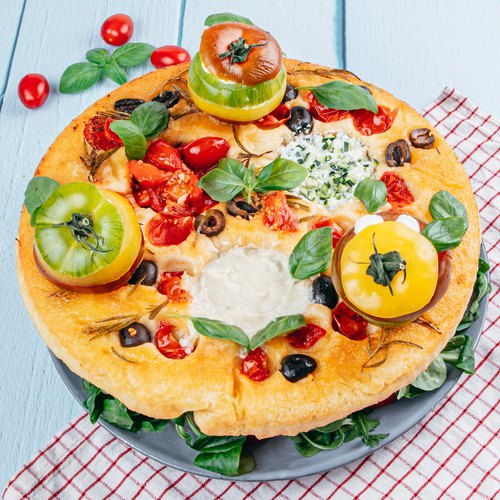 Italian Focaccia Appetizer
Italian Focaccia Appetizer! and its creamy cheese sauces 🤩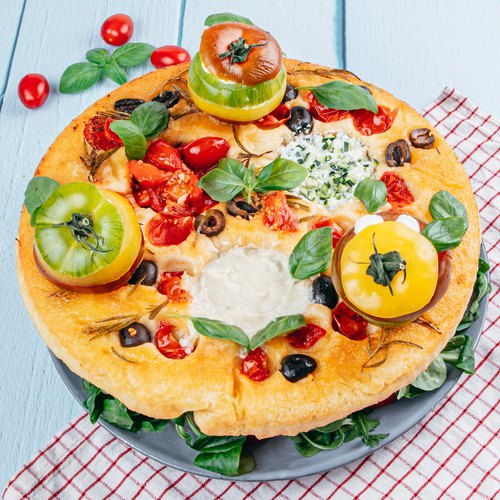 ---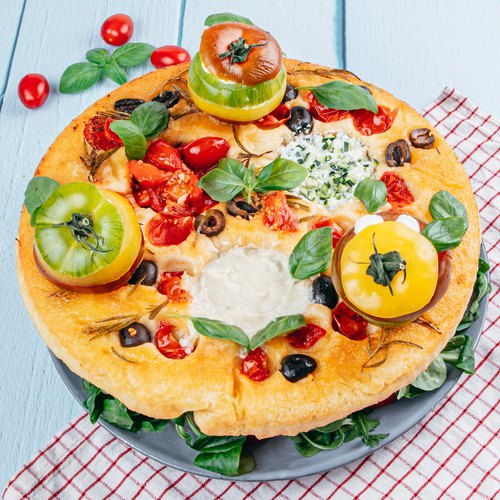 ---
Total time: 1 hour 50 minutes
Prep time: 40 minutes, Cook time: 30 minutes, Rest time: 40 minutes
Ingredients for 5 people
6 cups of flour
2 3/4 cups of water
3 tsp of yeast
20 cherry tomatoes
1 clove garlic
0.7 oz of blue cheese
0.7 oz of pecorino cheese
0.7 oz of parmesan
0.4 cup of sour cream
0.7 oz of ricotta cheese
Zucchini
10 black olives
3 tomatoes
27 mini mozzarella balls
Basil
Rosemary
---
Tools
Rolling pin or metal rod
---
Step 1/3
Mix the yeast and the lukewarm water, allow to rest 10 minutes. Mix the flour, the yeast preparation, until you obtain a smooth dough and let it rest for 30 minutes at room temperature.
Step 2/3
Cut a green tomato, a red tomato and the yellow tomato into strips horizontally, hollow out the inside of the strips. Reform the tomatoes and garnish them with balls of mozzarella and basil. Repeat the process to have 3 and refrigerate. Cut a red tomato, the clove of garlic, the zucchini, the gorgonzola, the pecorino, the parmesan into pieces. Mix the tomato, the clove of garlic, a drizzle of olive oil in a container. Mix the zucchini, the ricotta in another container. Mix the gorgonzola, the pecorino, the parmesan and the sour cream in a last container .
Step 3/3
Cut the black olives, the cherry tomatoes in 2 and place them in the pie pan. Aadd the rosemary, the olive oil and the 3 containers. Roll out the focaccia dough using a rolling pin and lay it on top of everything. Bake for 30 minutes at 350°F. Unmold the focaccia from the pie pan, remove the containers and arrange the multicolored tomatoes. Sprinkle with basil and enjoy!