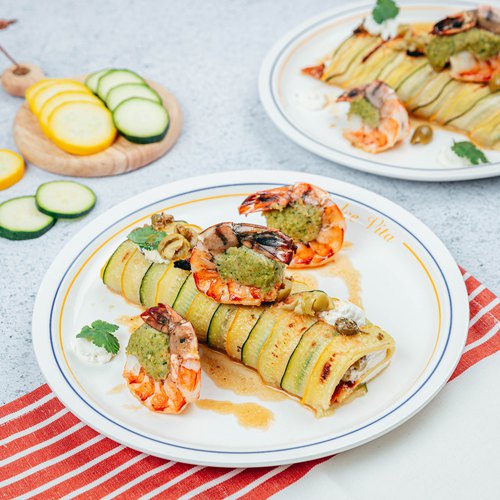 Italian Zucchini Cannelloni
Italian Zucchini Cannelloni! With olive stuffed shrimp 🦐🥒🍝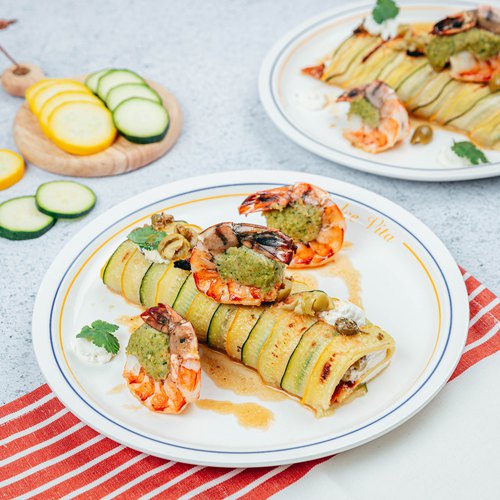 ---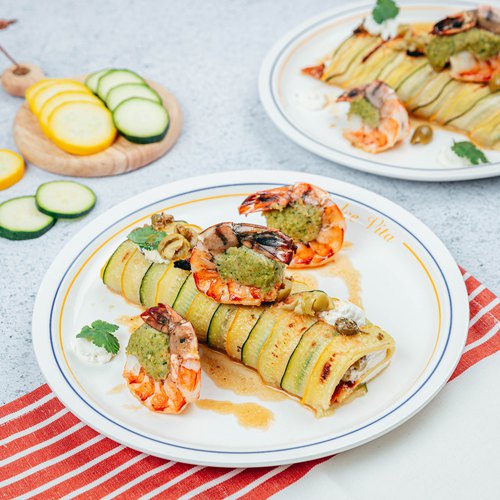 ---
Total time: 1 hour 18 minutes
Prep time: 1 hour , Cook time: 18 minutes
Ingredients for 3 people
2 zucchinis
1 tbsp of salt & pepper
2 cups of ricotta cheese
20 sun-dried tomatoes
40 green olives
1 tbsp of parmesan
9 shrimp
1 cup of martini ®
1 lemon
3 tsp of breadcrumbs
2 tsp of olive oil
1 clove garlic
---
Tools
Cling wrap
---
Step 1/3
Blanch zucchini slices and arrange them on plastic wrap. Season with salt and pepper. Add sun-dried tomatoes, 20 olives and ricotta on top. Roll. Remove cling wrap, sprinkle with parmesan and bake 15 minutes at 350°F.
Step 2/3
In a pan flambé the shrimp in martini. Mix breadcrumbs, lemon juice, remaining olives, olive oil and parmesan. Cut the shrimps open and stuff with mixture. Cook 3 minutes in a pan with olive oil and garlic.
Step 3/3
Cut the cannelloni in 3 and serve with the shrimp. Enjoy!