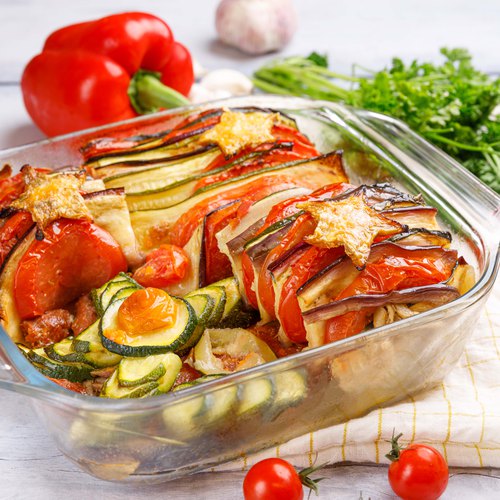 Fresh Veggies & Sausage Bake
Fresh Veggies & Sausage Bake! An easy breezy meal 🍅🍆🥒⭐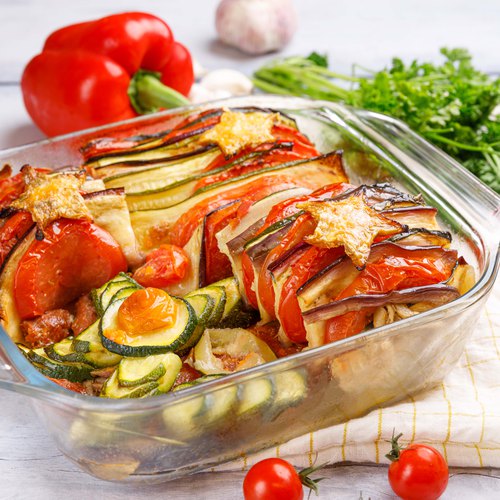 ---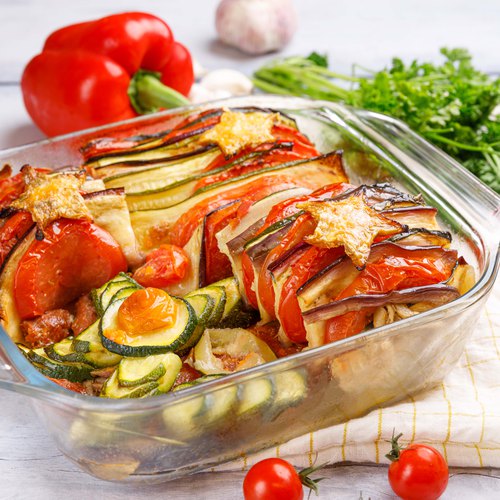 ---
Total time: 1 hour 15 minutes
Prep time: 40 minutes, Cook time: 35 minutes
Ingredients for 6 people
3 mini zucchinis
2 zucchinis
4 chipolata sausages
4 merguez sausages
1 eggplant
3 tomatoes
3 tbsp of chefclub vegetable seasoning
Cherry tomatoes
Salt
---
Step 1/3
Remove the envelope from the merguez and chipolatas, place them in the bottom of a baking dish, alternating merguez and chipolatas. Flatten them so that they fit the shape of the dish. Cut the zucchini and eggplant into strips lengthwise and the tomatoes into rings. Place the zucchini and eggplant strips in a dish, drizzle with olive oil, sprinkle the Chefclub vegetable seasoning, a pinch of salt and mix.
Step 2/3
Cut the small zucchini in 2 then each part in slices without going to the end. Remove every other slice then cut the edges of the end. Repeat the process to obtain 5 then arrange them in a star. Place a slice of eggplant in the center and half a cherry tomato.
Step 3/3
Arrange the strips in the dish, alternating zucchini, eggplant and tomato slices on the sausages. Place the zucchini star on the dish with the eggplant stars to decorate then bake for 35 min at 350°F. Serve with a salad and enjoy!