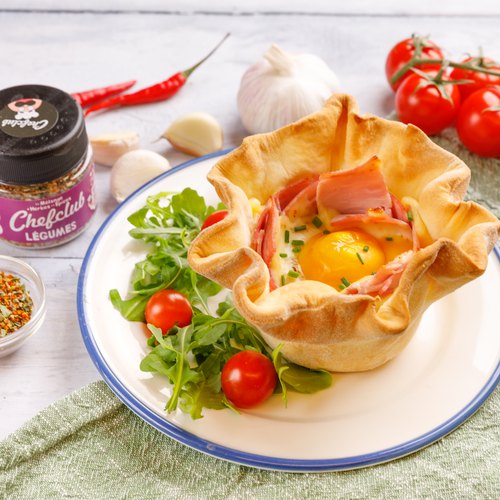 Brunch Dipping Flowers
Brunch Dipping Flowers! As pretty as they are tasty! 🌺🥚😊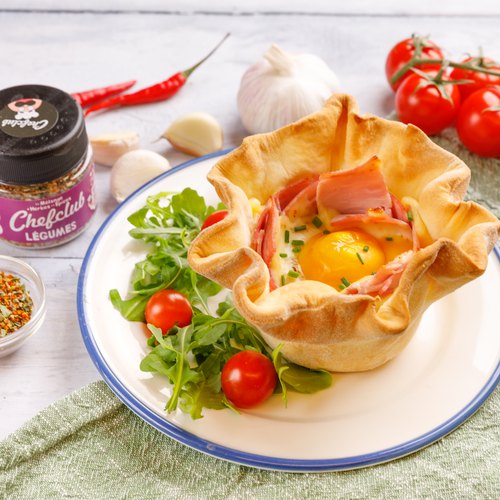 ---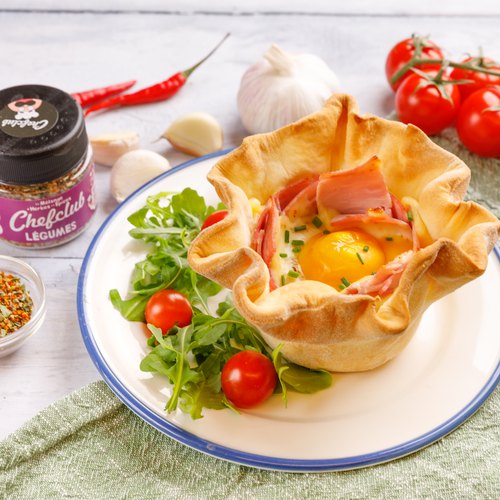 ---
Total time: 1 hour 5 minutes
Prep time: 35 minutes, Cook time: 30 minutes
Ingredients for 3 people
3 pizza doughs
6 slices of ham
6 slices of emmental cheese
1 1/4 cups of bechamel sauce
2 tbsp of chefclub vegetable seasoning
3 egg
3 tsp of chives
Salad
Tomato
---
Tools
empty wine bottle
---
Step 1/3
Empty the wine bottle, make the lace patterns on the pizza dough using the empty wine bottle. Place 3 glasses on a baking tray, place the pizza dough on the glasses then bake for 15 minutes at 390°F.
Step 2/3
Layer the slices of ham, place the slices of cheese superimposed on the slices of ham. Cut crosswise into 3 parts. Mix the Chefclub Vegetable Spices and the bechamel sauce. Pour the mixture into the bottom of 3 glasses, arrange the slices of ham, then the slices of cheese on top to form a flower on the edges of the glasses. Roll 3 slices of ham together then place them in the center of a glass, repeat the process for each glass. Bake the glasses for a few minutes to melt the cheese.
Step 3/3
Place the lace shells on the glasses then gently turn the glasses over and unmold the cheese, ham and bechamel. Place 1 on top of each lace cup then bake for 15 minutes at 350°F. Sprinkle with chives then serve with salad and tomatoes. Enjoy!