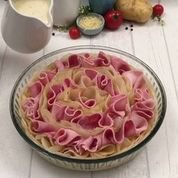 Scalloped Potatoes
This side dish just took center stage! 😍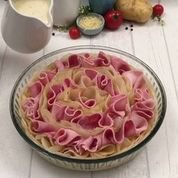 ---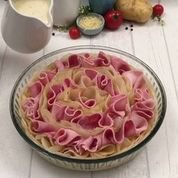 ---
Ingredients for 4 people
15 potatoes
1/2 cup of flour
1/2 cup of butter
salt & pepper
2 cups of milk
1 1/2 cups of grated swiss cheese
slices of deli ham
---
Tools
Round casserole dish
Small sauce pan
Whisk
---
Step 1/3
In the sauce pan, mix together butter, flour, salt, and pepper until a paste forms. Stir in milk until a thick sauce forms. Mix in 1 cup of swiss cheese and stir until mixed. Pour half the sauce into a round casserole dish. Sprinkle with half of the remaining cheese.
Step 2/3
Thinly slice all of the potatoes. Slightly overlap a row of sliced potatoes in the sauce around the edge of the casserole dish. Repeat with the second row. For the third row, accordion fold potato slices and place around the edge. Repeat with remaining potatoes, spiraling towards the center until the dish is completely covered.
Step 3/3
Accordion fold slices of deli ham and cut them to fit between the layers of potatoes. Alternate layers of ham with layers of potatoes. Cover the casserole with the remaining sauce, remaining cheese, salt, and pepper. Bake for 35 minutes at 350 °F. Enjoy!