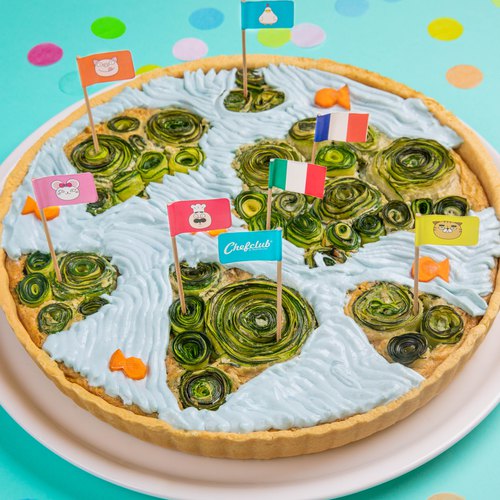 Quiche Planet
Quiche Planet! Which continent will you eat first? 🌎🌍🌏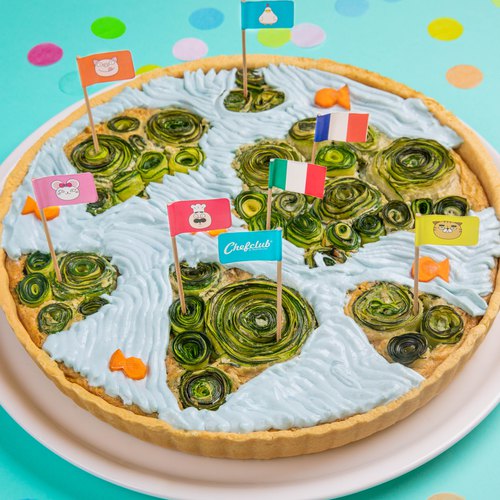 ---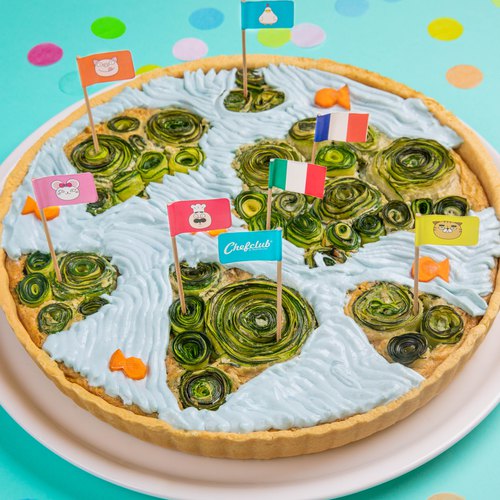 ---
Total time: 55 minutes
Prep time: 25 minutes, Cook time: 30 minutes
Ingredients for 5 people
1 puff pastry
5 zucchinis
2 cups of red cabbage
4 1/2 tsp of baking soda
5 egg
1 cup of heavy cream
1 1/4 oz of cheese
9 oz of cream cheese
Carrots
Salt & pepper
---
Tools
Aluminum foil
World map
Colander
Ziploc bag
---
Step 1/3
Download and print our world map
. Fold the sheets of aluminum foil in 3 lengthwise and shape the strips into the shape of the different continents. Place the different continents in the puff pastry pushed into the pie dish. Cut the zucchini into thin strips then roll them up. Place the zucchini rolls upright inside the aluminum continents so that they take the shape of the continents. Repeat the action to fill all the continents. Carefully remove the aluminum foil.
Step 2/3
Mix 2 chefs of red cabbage and 1 chef of water until a purple liquid is obtained. Add 3 chicks of baking soda and mix again to obtain a blue mixture. Drain the mixture in a bowl through a colander to remove the last pieces of cabbage. Mix 1 chef of the mixture, pepper, 5 eggs and 1 chef of heavy cream in a bowl to obtain a sky blue color. Pour the mixture into the pie around the continents. Sprinkle 1 cat of grated cheese.
Step 3/3
Bake for 30 minutes at 340°F. Pour 1 chef of cream cheese and 1 mouse of the remaining mixture into a bowl. Mix to create a bluish cream. Place cream in ziploc bag and cut off the bottom corner. Form waves of cream all around the zucchini on top of the pie. Place some carrot fish and enjoy!