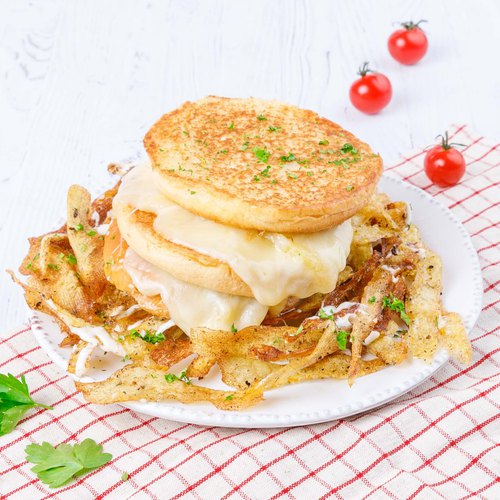 Liqueur-Infused Cheese Sandwich
Liqueur-Infused Cheese Sandwich! Served with cripsy fries🧀🥪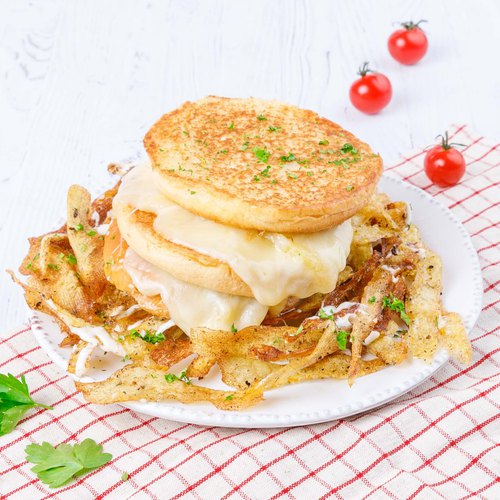 ---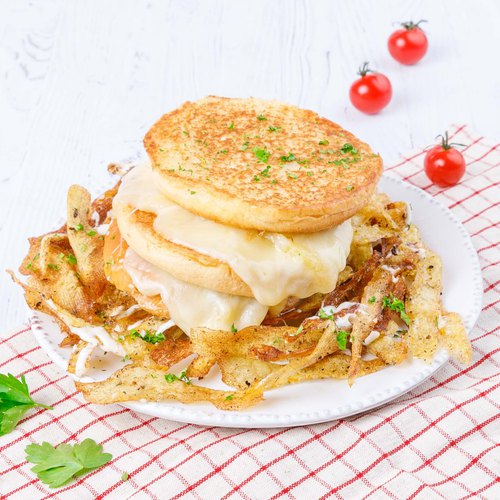 ---
Total time: 50 minutes
Prep time: 50 minutes
Ingredients for 3 people
1 half wheel morbier cheese
0.16 cup of genepi liqueur
1 tsp of chefclub guacamole mix
3 hamburger buns
1 1/4 cups of butter
1 red onion
1 tsp of chefclub vegetable spice mix
3 slices of ham
2 potatoes
3 tsp of chefclub chicken spice mix
1 tsp of salt
1 tbsp of mayonnaise
2 tsp of parsley
Frying oil
---
Tools
Peeler
---
Step 1/4
Heat the cheese and make a space in the center of the melted cheese with a spoon. Pour in the genepi and flambé the raclette cheese. Sprinkle with Chefclub guacamole spices. Cut the red onion into chunks and place them in a glass with the Chefclub vegetable spices.
Step 2/4
Toast the burger buns on the griddle with some butter. Flatten each top using the glass with the onions and Chefclub spices to form a space in the centre. Place the spiced red onions in the spaces of each top bun. Cut the slices of ham into a circle, arrange them on the other burger buns and pour the melted cheese over the top buns. Place the top buns upside down on the other burger buns with the ham. Set them aside.
Step 3/4
Peel the potatoes and melt the remaining butter. Place it in a bowl and dip the potatoes in the melted butter, stirring to incorporate the butter into the potatoes. Drain the potatoes and sprinkle them with Chefclub chicken spices. Cut them into strips using a vegetable peeler and fry the strips in frying oil. Remove from oil and sesason with salt and 1 teaspoon parsley.
Step 4/4
Place the potato chips in the center of a plate, add the mayonnaise and place the sandwich. Sprinkle with parsley and enjoy!