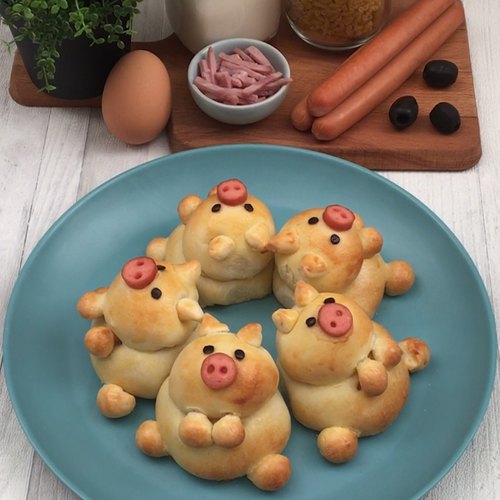 Piggy Pasta
This little piggy is ready for lunch! 🐷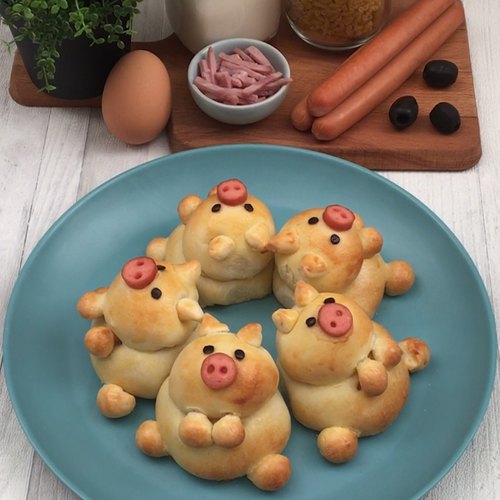 ---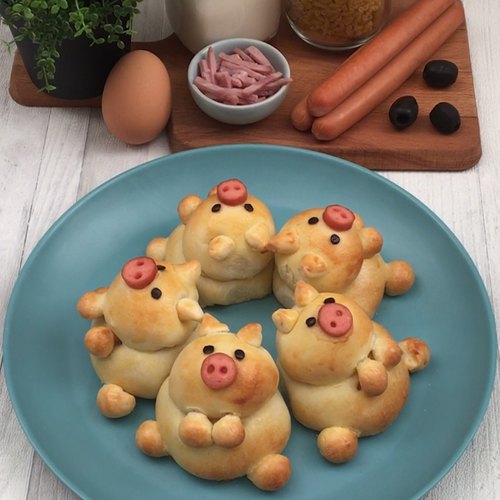 ---
Ingredients for 5 people
2 pizza doughs
1/2 cup of elbow pasta
1/2 cup of ham, diced
1/4 cup of parmesan, grated
1 egg yolk
1 hot dog
5 black olives
---
Tools
Glass
Baking tray
Parchment paper
---
Step 1/4
Cut 1 of the pizza doughs into 5 equal wedges and the 2nd into 10 wedges. Cut half of the 2nd dough wedges into 2 lengthwise and 3 widthwise. Roll each piece into a ball to make 30.
Step 2/4
Cook the pasta in boiling salted water, drain, and mix in the ham and parmesan cheese. Place 1 tbsp. of this mixture in the middle of all the remaining dough wedges and roll into balls.
Step 3/4
Place the glass in the center of the baking tray lined with parchment paper and place the 5 largest balls around it. Place the 5 medium balls balanced on top. Place 2 small balls in front of the larger ones, 2 more between the head and body and 2 more on the head. Press them down a little to form pig's ears. Brush with egg yolk.
Step 4/4
Cut 5 discs from the hot dog and remove 2 small discs to make snouts. Cut 10 small discs from the black olives. Stick the hot dog snouts to the large balls and make eyes above them with the olive discs. Bake for 20 minutes at 325 °F, remove the glass and enjoy!