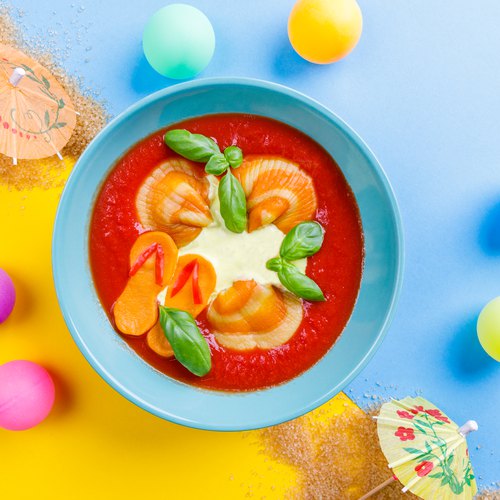 Sea Breeze Kids Ravioli
Sea Breeze Kids Ravioli! This recipe is shorely perfect to do with the kids 😄🍝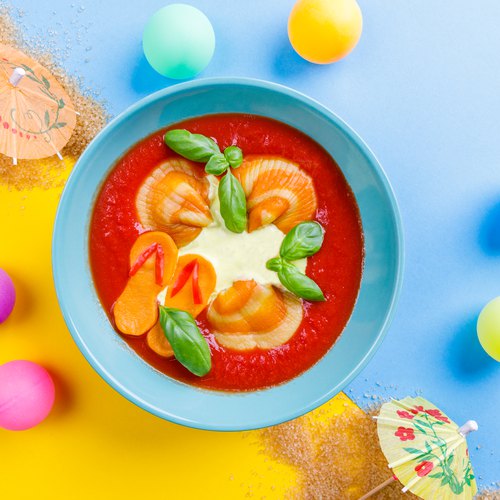 ---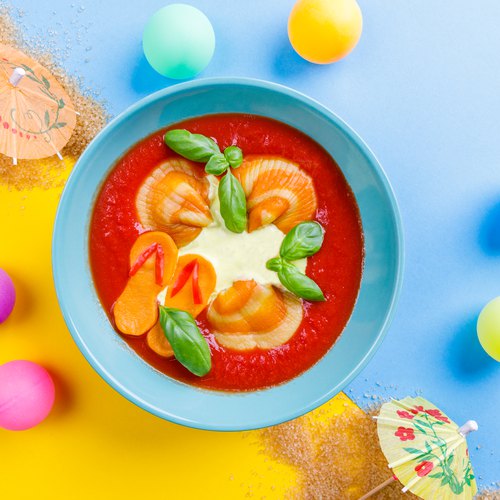 ---
Total time: 39 minutes
Prep time: 35 minutes, Cook time: 4 minutes
Ingredients for 3 people
1 1/4 cups of flour
2 egg
1 tsp of tomato paste
2 tbsp of ricotta cheese
1 tbsp of olive oil
1 onion
1 cup of sour cream
1 1/4 cups of tomato sauce
1 pinch of turmeric
Basil
---
Tools
Chefclub rolling pin
---
Step 1/3
In a bowl pour 1 chef and 1 mouse of flour. Make a well and add the eggs. Knead the dough until smooth.Divide the dough in 2 then add 1 chick of tomato paste to one of the doughs. Allow to rest for 1 hour in a cool place.
Step 2/3
Sprinkle the flour on the tomato pasta dough and roll it out with the Chefclub rolling pin. Repeat the process with the plain dough. Cut one end of the pasta dough with tomato sauce, brush the dough with water and lay the plain dough on top. Turn the pasta, brush with water again then roll the pasta on itself. Cut the dough into circles. Sprinkle the work surface with flour and flatten the circles with the rolling pin. Make fine incisions on the surface of the dough then press down on the sides. You can also make flip-flops with the pasta dough.
Step 3/3
Garnish the pasta with 1 chick of ricotta. Brush the edges of the pasta with water with your finger and then seal them. Form 6 ravioli with the rest of the tomato pasta dough. Cook the pasta 4 minutes in boiling water. Add 1 hen of olive oil to a hot pan and cut the onion into pieces. Add 1 mouse of onion to the pan and cook. Add 1 chef of sour cream, salt, pepper and turmeric then mix. Pour 1 cat of tomato sauce on each plate, the sour cream mixture and pasta on top. Add basil and enjoy!