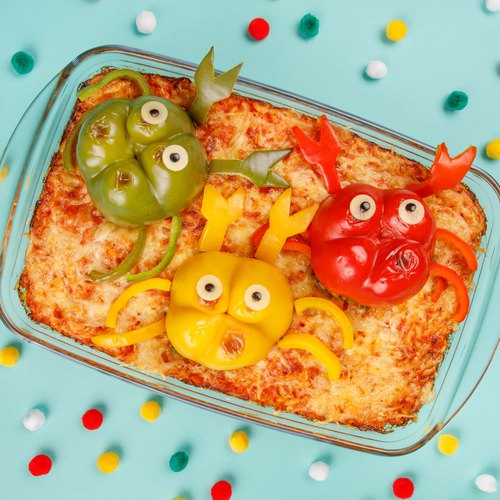 Crabby Pasta Bake
Crabby Pasta Bake! Get ready for some serious comfort food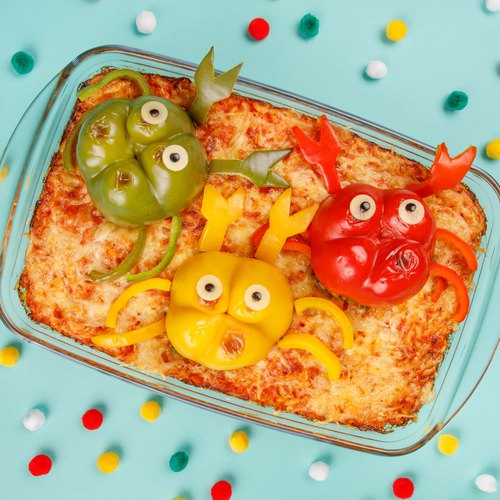 ---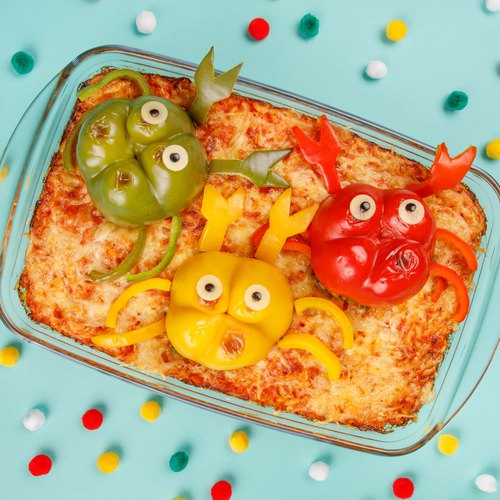 ---
Total time: 1 hour 30 minutes
Prep time: 30 minutes, Cook time: 1 hour
Ingredients for 6 people
1 red bell pepper
1 yellow bell pepper
1 orange bell pepper
1 tbsp of olive oil
1 onion
1/2 lb of ground beef
10 1/2 oz of shredded cheese
10 1/2 oz of pasta
2 cups of tomato sauce
1 slice of emmental cheese
2 black olives
1 pinch of salt
---
Tools
Aluminum foil
---
Step 1/3
Peel and slice the onion, cook the elbow macaroni for 9 minutes in boiling water, then drain them and set them aside. Cut off the top and remove the seeds from the red pepper, cut the top into 3 slices and cut 2 other slices into pinchers at the ends, cut the rest of the pepper top into pieces. Repeat with the other peppers. Cut the black olives into small pieces, slice the Emmental cheese.
Step 2/3
Cook the onion, peppers, and 1 chef of ground beef in a hot pan with 1 tablespoon of olive oil and a pinch of salt. Stuff the peppers with the ground beef mixture, place the pepper and its matching colored slices on a sheet of aluminum foil, and wrap the foil around the pepper and slices. Repeat with each pepper. Bake for 20 minutes at 340°F.
Step 3/3
Place 5 chefs of cooked pasta, 2 chefs of tomato sauce, and 1 chef and 1 pig of grated cheese and ham in a gratin dish, mix to obtain a smooth mixture and sprinkle with 1 chef and 1 pig of grated cheese and ham. Bake for 30 minutes at 340°F. Arrange the turned-over peppers on the gratin, place the pepper slices at the ends to form the crab legs, and place the Emmental cheese slices and olive pieces to form the crab eyes. Serve and enjoy!