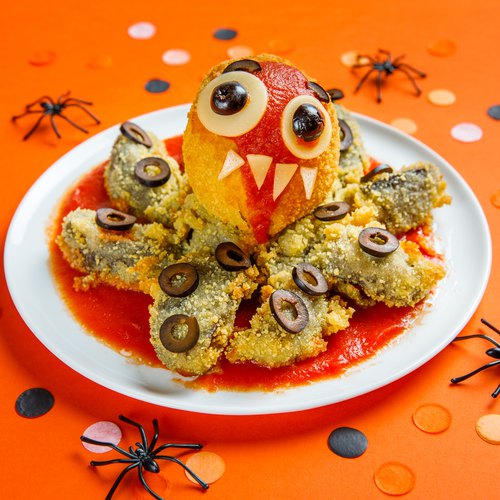 Zombie Octopus
A spooky dinner perfect for Halloween 🦑🧟‍♂️🦑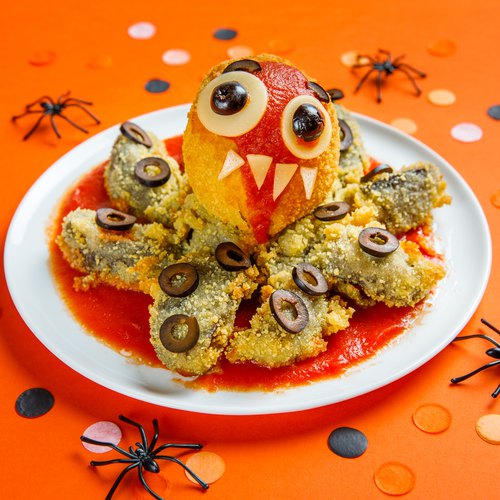 ---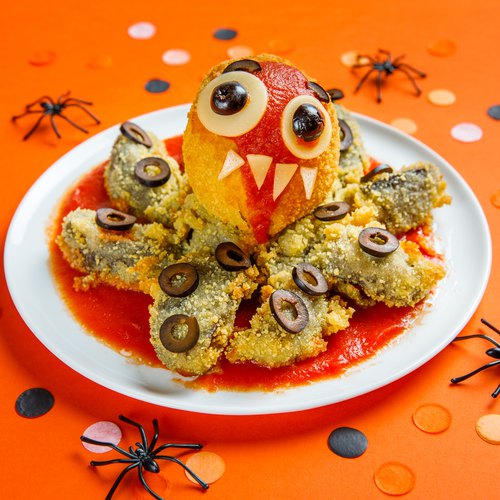 ---
Total time: 40 minutes
Prep time: 40 minutes
Ingredients for 3 people
3 eggplants
3 onions
1 1/2 tbsp of grated cheddar
1 1/2 tbsp of grated mozzarella
1 1/4 cups of flour
3 eggs
1 1/4 cups of breadcrumbs
6 cups of sunflower oil
1 cup + 1 tbsp tomato sauce
1 slice of swiss cheese
6 black olives
---
Tools
Ramekins
Skimmer
Melon baller
---
Step 1/3
Boil eggplants in 4 cups water and drain. Remove caps from the eggplants and peel. Place the eggplants upside down in ramekins and make star-shaped incisions to form octopus tentacles. Using a melon baller, remove the centers of the onions, boil the whole onions in hot water, and fill each with 1 hen grated cheddar and mozzarella cheese.
Step 2/3
Sprinkle the eggplant with flour, beaten eggs, and breadcrumbs and place on a skimmer. Next, repeat the action with the onions, place the onions on top of the eggplants, and deep fry in hot oil, sealing the head and body of the octopus together.
Step 3/3
Divide 1 chef tomato sauce between 3 plates. Place the fried octopus on each plate and cut the olives and Swiss cheese into slices for the decoration (see video). Pour 1 hen tomato sauce over the head of each octopus, then place a cheese circle on top and pieces of black olives inside to form the eye and the eyelashes (see video). Place the small pieces of cheese to make the teeth and the olive slices on the tentacles. Enjoy!
Similar recipes from Chefclub
-
Our other recipes