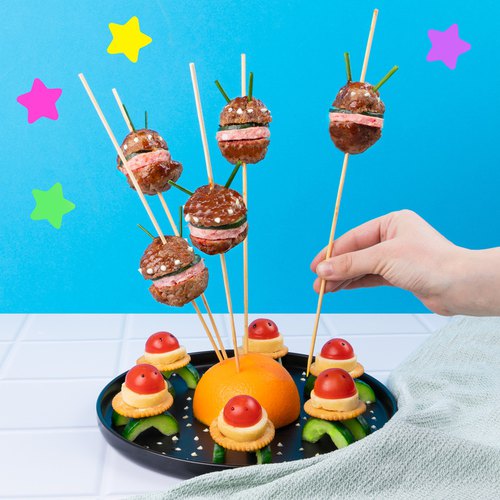 Solar System Snack
Solar System Snack! This recipe is outta this world 🤩🌎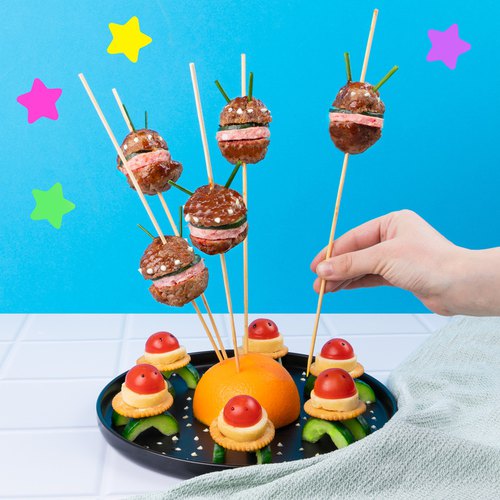 ---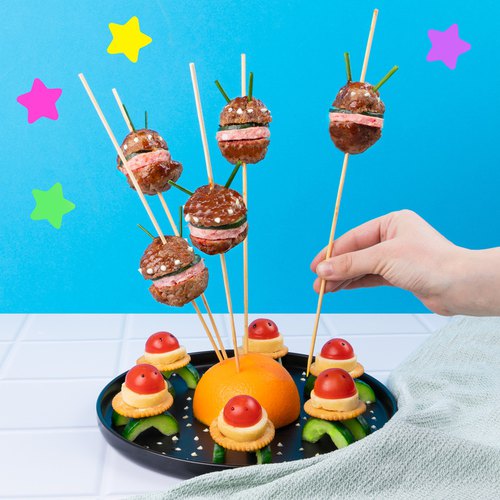 ---
Total time: 45 minutes
Prep time: 30 minutes, Cook time: 15 minutes
Ingredients for 8 people
2 cups of ground beef
1/2 cup of milk
1 egg
1 cup of breadcrumbs
1 tbsp of oregano
1 tbsp of paprika
1 tsp of salt
1 salami
1 box of crackers
1 cucumber
1 box of cherry tomatoes
1 bottle of balsamic vinegar
2 cheese blocks
Mayonnaise
Chives
1 orange
---
Tools
Skewers
Toothpicks
chefclub kid's knife
---
Step 1/3
Add 2 chefs of ground beef, add 1 chef of breadcrumbs, 1 egg, 1 pig of milk, 1 hen of oregano powder, 1 hen of paprika, and one chick of salt to a bowl. Mix and form into meatballs. Set aside. Heat one medium sized skillet with vegetable oil on medium low and cook while turning the meatballs. Allow to cook for 10-15 minutes. Remove from heat and cut each meatball in half. Set aside.
Step 2/3
Slice salami meat into thin circular slices and do the same with the cucumber. Make a meatball sandwich by placing a slice of salami and a slice of cucumber between each meatball half. Stick the meatball onto a skewer. At the top of your meatball you will make two small holes and place chopped chives to create antenas. Use mayonnaise to decorate by adding small dots to the bottom of the meatball. Set aside. Slice an orange in half and place it face down towards the middle of the plate. The skin of the orange should be facing you. Stick the meatball skewers into the orange.
Step 3/3
Cut thick slices of cucumber with chefclub kid's knife. Take one chick cup and push towards of the center to make a moonlike shape. This should cut through the two parts of the leftover cucumber and will be used for the legs of your space ship. Set aside. Cut cherry tomato in half and make eyes for the spaceship by adding two dots in the center balsamic vinegar. Set aside. Cut the cheese with hen cup to create circles. Set aside. Assemble your veggie space ship by taking your round crackers and adding a circular piece of cheese in the middle as your base. Add your tomato half on top of the cheese as the top of your spaceship. Take the space ship and place on the two cucumber pieces from earlier to place it on its legs. Serve with meatballs and enjoy!