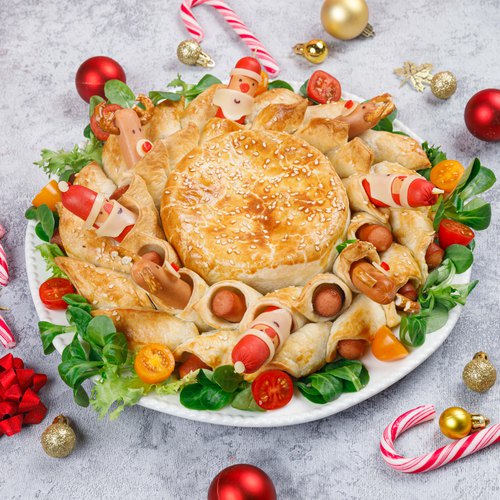 Huff & Puff Pigs In A Blanket
Huff & Puff Pigs In A Blanket! A deliciously wrapped recipe just for you 😚🐷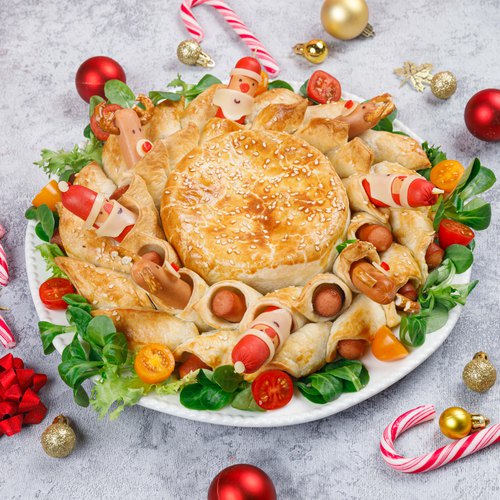 ---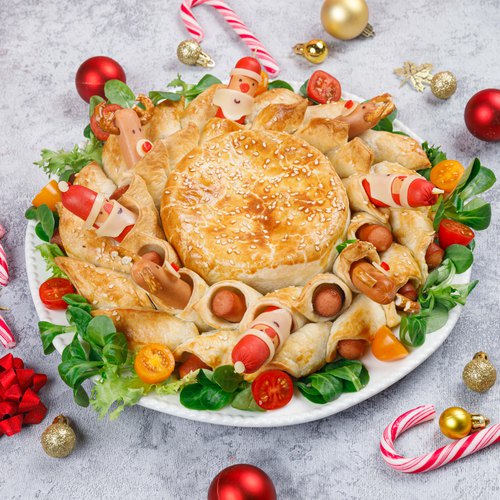 ---
Total time: 50 minutes
Prep time: 20 minutes, Cook time: 30 minutes
Ingredients for 8 people
2 slices of cheese
2 puff pastry
1 brie
11 hot dogs
1 egg
2 red hot dogs
1 red pepper
garlic
chives
---
Tools
Baking sheets
Pastry brush
---
Step 1/3
Preheat the oven to 350°F. On a parchment lined baking sheet, place one round sheet of puff pastry. In the middle place the brie. Take off the top of the cheese and set aside. Season the cheese with chopped garlic and chives. Put the top back on the cheese. Place the second sheet of puff pastry over the cheese and press down around the cheese to secure the puff pastry in place and push out any air trapped between the two doughs. Take a knife and begin cutting the dough into 16 parts. Careful not to cut into the cheese. Line the hotdogs up and cut them into 3 equal sections. Start rolling the pieces of hot dog in the sections of puff pastry. Complete the first layer then continue the same with the bottom layer of puff pastry. Brush the entire pastry with a beaten egg. Sprinkle some sesame seeds on top. Bake 25-30 minutes until golden.
Step 2/3
Cut two red hot dogs in half. Make a superficial rectangular incision into the top portion of the hotdog. Before removing anything, use a straw to cut out a round portion in the middle of the rectangle. Leave the round for the nose and carefully pull away the hotdog skin to reveal the "face." Cut a beard out of cheese and a long strip of cheese for the hat. Stick a piece of pasta in the top of the hotdog to stick the pompom for the hat. Using an edible marker, add the eyes, mouth and details such as buttons. The hot dog should resemble Santa Clause. For the reindeer hot dogs, cut two regular hot dogs in half. Place a circle of cheese and a tiny round piece of red bell pepper for the nose. Break pretzels in half and use two halves as the antlers. Press them into the side of the hotdogs. Draw on details such as eyes and mouth.
Step 3/3
Pop out every other hot dog on the first layer of the puff pastry and replace with a Santa hot dog. Continue in the order of Santa hot dog, regular hot dog, and reindeer hot dog. Save the hot dogs that have been taken out and serve them with the final dish. Cut the puff pastry to reveal the cheese inside. Happy holidays and enjoy!